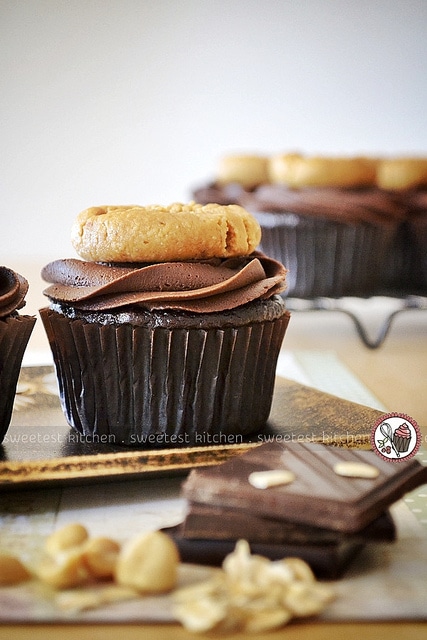 Vegan Chocolate Peanut Butter Cookie Cupcakes
Ingredients
For Cupcakes:

1½ cups all-purpose flour
¾ cup granulated sugar
3 tablespoons cocoa powder
2 teaspoons espresso powder
1 teaspoon baking soda
½ teaspoon salt
1 teaspoon vanilla extract
1 teaspoon vinegar
¼ cup vegetable oil
1 cup water

For Ganache:

6 ounces semi-sweet chocolate, finely chopped (use dairy-free to keep vegan)
½ cup coconut milk
Instructions
For cupcakes:

Preheat oven to 350 degrees F (180 degrees C). Line a cupcake pan with baking cups.
In a mixing bowl, whisk together the flour, sugar, cocoa, espresso powder, baking soda, and salt. Add the vanilla extract, vinegar, oil, and water. Using a spatula, mix the batter until smooth.
Divide batter evenly between 12 baking cups (about ¾ full). Bake for 18-22 minutes, or until a toothpick inserted into the center comes out clean. Remove from baking pan and allow to cool to room temperature.

For Ganache:

Place chopped chocolate into a mixing bowl. Set aside.
On medium-high heat, bring coconut milk to a boil, stirring occasionally to prevent the milk from scorching. Pour milk over the chocolate, making sure that the milk covers the chocolate. Allow to sit for several minutes before stirring until smooth. Allow frosting to rest on the counter until it cools down and thickens to a pipe-able consistency (anywhere from 20 to 40 minutes).
Beat the frosting for several minutes until it incorporates air and feels lighter.
Place frosting in a pastry bag (or plastic bag with the corner cut out) and pipe frosting onto the cooled cupcakes.
https://stlcooks.com/vegan-chocolate-peanut-butter-cookie-cupcakes/
Recipe and Photo: jamieanne on flickr / CC BY-ND