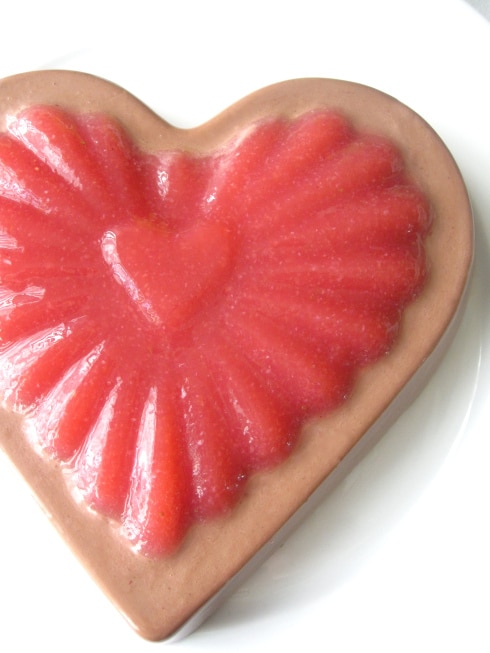 Valentines Day Chocolate and Strawberry Panna Cotta
Ingredients
Strawberry Layer

One packet Knox gelatin
¼ cup water (for blooming)
½ cup water (for boiling)
¼ cup sugar (or to taste)
1 cup pureed strawberries, seeds strained

Chocolate Panna Cotta Layer

One packet Knox gelatin
½ cup whole milk (for blooming gelatin)
2 cups heavy cream
½ cup sugar
½ cup baking cocoa powder
Instructions
Strawberry Layer

Put ¼ cup of cold water in a medium bowl and sprinkle 1 packet of gelatin on top of the water. Set bowl aside.
Put water and sugar in a small saucepan over medium heat and bring to a low boil until sugar dissolves. Remove from heat and add to the bloomed gelatin. Stir until gelatin dissolves. Stir in pureed strawberries. Pour mixture into mold(s). Put in refrigerator until almost set. It should stick to your fingers when slightly touched.

Chocolate Panna Cotta Layer

Sprinkle the packet of gelatin on top of ½ cup cold milk. Set aside for 5 minutes.
In a small saucepan heat up cream and sugar. Add cocoa a little bit at a time and stir thoroughly. If clumps of cocoa remain, strain to remove. Once sugar dissolves, pour over the bloomed gelatin. Stir until gelatin dissolves. Refrigerate until not set, but cool. Pour into mold(s) and refrigerate for 4 hours.
To remove gelatin, put mold into a bowl or sink full of hot water for a few seconds. After removing from hot water, gently shake the mold side to side. Put plate on top of mold and flip over. If gelatin does not come out, try repeating the process.
Notes
It is very important to strain the strawberries! Otherwise, they will sink to the bottom of the mold, and show up on the surface. Not pretty!
https://stlcooks.com/valentines-day-chocolate-and-strawberry-panna-cotta/
Recipe and Photo: The Modern Gelatina / CC BY