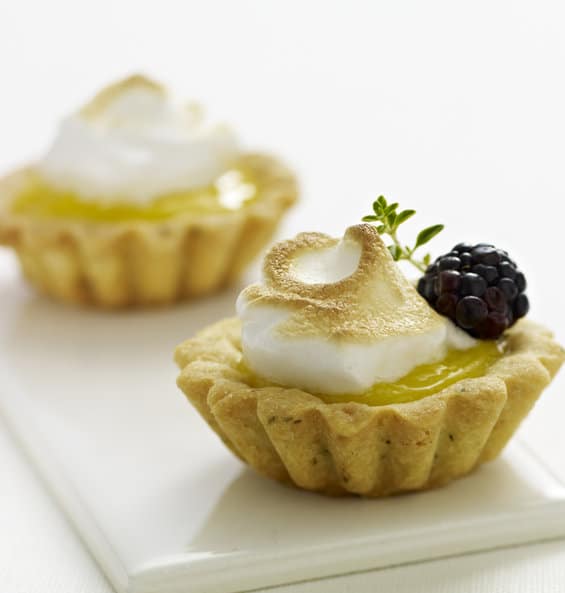 Recipe: Ultimate Lemon Tarts with Limoncello Blackberries
Ingredients
Tart Crust:
2 cups (475 mL or 250grams) flour
1/2 cup (120 mL or 100grams) granulated sugar
1 tablespoon (15 mL or 2 grams) fresh lemon thyme leaves
1 teaspoon (5 mL or 2.5grams) grated Meyer lemon peel
3/4 cup (1 1/2 sticks) (180 mL or 170grams) cold butter, cut into pieces
1 egg yolk
1 to 2 tablespoons (15 to 30mL) cold Limoncello liqueur
Meyer Lemon Curd:
9 egg yolks
2/3 cup (160mL) fresh Meyer lemon juice
1/4 cup (60mL) Limoncello liqueur
1 cup (240 mL or 200grams) granulated sugar
3/4 cup (1 1/2 sticks) (180 mL or 170grams) cold butter, cut into pieces
Limoncello Blackberries:
2 cups (500 mL or 275grams) blackberries
2 tablespoons (30 mL or 20grams) confectioners' sugar
2 tablespoons (30mL) Limoncello liqueur
1 teaspoon (5 mL or 0.5 grams) fresh lemon thyme leaves
1 teaspoon (5 mL or 2.5grams) grated Meyer lemon peel
Lemon Meringue Kisses:
3 egg whites
1/3 cup (80 mL or 65grams) granulated sugar
1/2 teaspoon (2 mL or 2grams) McCormick® Cream of Tartar
1/4 teaspoon (1 mL) McCormick® Pure Lemon Extract
Instructions
For the Tart Crust, place flour, granulated sugar, lemon thyme and lemon peel in food processor; cover. Pulse to combine. Add butter; process until mixture resembles coarse crumbs. Add egg yolk; process until dough begins to form a ball. If needed, add 1 to 2 tablespoons (15 to 30 mL) cold Limoncello liqueur. Divide dough in half. Wrap each half in plastic wrap, pressing to form a disk. Refrigerate at least 1 hour.
Cut each disk into 12 equal pieces. Roll each piece on lightly floured surface to 1/8-inch (0.3 cm) thickness. Press into tartlet pans with 2-inch (5 cm) diameter cups. Trim excess dough from top. Form a total of 24 tart shells. Freeze 30 minutes.
Place tartlet pans on large baking sheet. Bake in preheated 350°F (180°C, Gas Mark 4) oven 17 to 20 minutes or until lightly browned. Cool tart shells in pans on wire rack. Using a toothpick, carefully remove tart shells from pans. (Can be made 1 day ahead. Place tart shells on baking sheet. Cover with plastic wrap. Store at room temperature.)
For the Meyer Lemon Curd, mix egg yolks, Meyer lemon juice, Limoncello liqueur and granulated sugar in large heavy saucepan with wire whisk until well blended. Whisking constantly, cook on medium heat 8 to 10 minutes or until curd is thickened and coats the back of a spoon. Remove from heat. Whisk in butter, one piece at a time. Spoon into large bowl. Cover with plastic wrap, pressing it directly onto the surface of the curd to prevent a skin from forming. Refrigerate at least 1 hour or overnight until chilled and set.
For the Blackberries, mix all ingredients in medium bowl until well blended. Refrigerate until ready to serve. Spoon about 2 tablespoons (30 mL) lemon curd into each tart shell. Set aside.
For the Lemon Meringue Kisses, beat egg whites in medium bowl with electric mixer on high speed until foamy. Mix sugar and cream of tartar in small bowl. Gradually add sugar mixture and lemon extract to egg whites, beating until stiff peaks form. Spoon about 1 tablespoon(15 mL) meringue in the center of each tartlet, lifting spoon so that meringue forms a peak. Place tartlets on large baking sheets.
Broil 3 to 6 inches (7 to 15 cm) from heat for 30 seconds to 1 minute or until the meringue is lightly browned. (Watch to ensure that meringue does not burn.) Refrigerate tartlets at least 30 minutes before serving. To serve, top each tartlet with Limoncello Blackberries.
Quick notes
– If Meyer lemons are unavailable, use grated lemon peel in the tart crust and the blackberry mixture. Use 7 tablespoons (105 mL) lemon juice and 3 1/2 tablespoons (53 mL) orange juice in the lemon curd.
– If fresh lemon thyme is unavailable, substitute 1 teaspoon (5 mL or 1 gram) Thyme Leaves in the crust and 1/4 teaspoon (1 mL or 0.3 grams) in the blackberry mixture.
Recipe and Photo Courtesy of McCormick