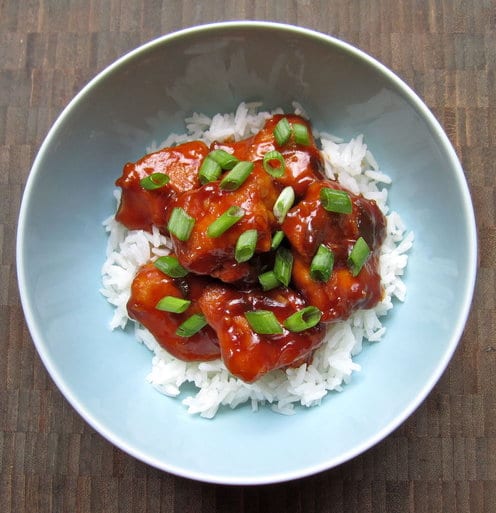 Recipe: General Tso's Chicken
Ingredients
for the chicken:
• 1 pound chicken breasts or thighs, cut into bite size pieces
1/2 teaspoon toasted sesame oil
1 tablespoon soy sauce
1 egg white
3 tablespoons cornstarch
sauce:
3/4 cup chicken stock or water
1 tablespoon tomato paste
3 tablespoons soy sauce
2 tablespoons rice vinegar
1/2 tablespoon chili/garlic paste (I added a little more)
1/2 teaspoon toasted sesame oil
3 tablespoons brown sugar
1 1/2 tablespoons cornstarch (If you like a thinner sauce, start with a tablespoon)
1 1/2 teaspoons minced garlic
1 teaspoon minced ginger
few tablespoons of chopped green onion
dried red chilies (optional, I used 3!)
1 teaspoon canola oil
Instructions
Combine the soy sauce, sesame oil, egg white and cornstarch in a medium bowl. Whisk this together until there are no clumps and it has a nice creamy consistency.
Dump the chicken in and toss to coat. You're going to let this sit while you prepare the sauce. (It needs to sit 10-15 minutes) Toss it around occasionally to make sure everything is covered!
Put a tiny bit of canola oil in a small saucepan and put it over medium heat. Once it's nice and hot, add the garlic, ginger, green onions and red chiles (if using) and stir around until very fragrant – 30 seconds to a minute.
Now you'll add in the rest of the ingredients. I like adding the water first just so the ginger and garlic don't burn. Then add the sesame oil, soy sauce, tomato paste, rice wine vinegar, chili/garlic paste, and the brown sugar. Mix this together very well and bring it up to a boil.
At this point you'll want to start tasting – you can make the sauce spicier or sweeter if you like, or even add a little more vinegar for extra tang. It's all up to you.
Once the sauce is tasting good, combine a few tablespoons of the the warm sauce in a measuring cup with 1 1/2 tablespoons of cornstarch and whisk until there are no clumps.
Pour that mixture back into the sauce pan and let boil for a few minutes until nice and thick.
Once that's done, set the heat to low and focus on cooking your chicken.
Heat a pan over medium high heat with thin film of oil covering the entire bottom. Make sure the oil is shimmering and very hot before you add the chicken! Also, if you've got a wire screen to cover the pan you're using, grab it! The one downside to cooking the chicken like this is that is spits and pops oil everywhere. Your kitchen is about to turn into an action movie.
You'll want to cook the chicken in multiple batches unless you have a giant pan – overcrowding will lead to steaming which leads to ugly, not crispy chicken.
Cook the chicken for a couple minutes on each side – you want it to be nice and crisp and golden brown. Try to brown all sides of the chicken if you have the patience. You'll know the chicken is done when it's very very firm to the touch. Squishy chicken = not cooked all the way through.
Once a batch of chicken is done cooking, set it aside on a plate to rest.
When you've cooked all your chicken, pour the excess oil from the pan and wipe it out.
Your chicken is cooked and your sauce is amazing, so now you must combine them together.
Put your newly clean pan over low heat and pour in the chicken and sauce. Mix to combine and let simmer together for a few minutes.
Serve over white rice with chopped green onion and some steamed veggies if you're into that.
Recipe and Photo Courtesy of jessyratfink on instructables.com / CC BY-NC-SA