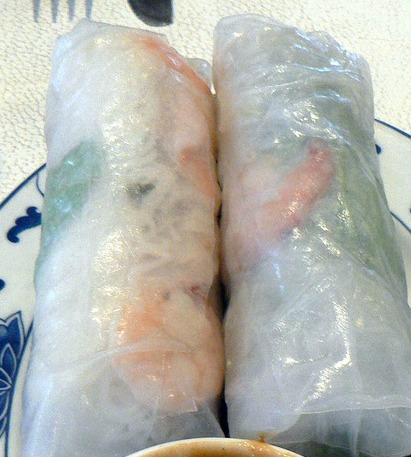 Tasty Spring Shrimp Rolls
Ingredients
Rice paper wrapper , plus a bowl of warm warm water to soak them
Rice noodles, cooked and cooled
Shredded or julienned carrots
Beans sprouts
Fresh mint leaves
Iceberg lettuce
Cooked shrimp, split in half lengthwise
Firm tofu, sliced (see note on tofu bellow)
Chives for decoration (optional)
Instructions
To make the rolls, first have all ingredients within your reach, including the bow of water. Working with one at the time, soak the rice paper for about 20-30 seconds and place it on a flat surface (I use a large plate).
Place 3 pieces of shrimp, or 1 slice of tofu on the top half of the rice paper.Directly under it (on the lower end of the paper), place the lettuce, beans sprouts, carrots, mint and noodles. Placing the noodles last will make it easier to wrap the roll.
Now to the tricky part: to wrap the roll, start from the sides, folding each side towards the middle making sure they overlap in one point so they will stick together. Roll it from the bottom up, stopping half way to add a piece of chive , if using.
Notes
If you are using tofu, for each 8 oz make a marinade with: 1 clove of chushed garlic, equal parts of soy sauce and vegetable oil (about 1 cup total), a spalsh of sesame oil, 1/2 tbsp of curry powder, 1/4 teas of cumin ,salt, pepper (keep in mind that the soy sauce is already salty). Marinate the tofu for about 1 hour, then pan fry it on a skillet until crisp and golden. Slice into strips.
https://stlcooks.com/tasty-spring-shrimp-rolls/
Recipe: Pink Bites
Photo: stu_spivak / CC BY-SA