Jump to recipe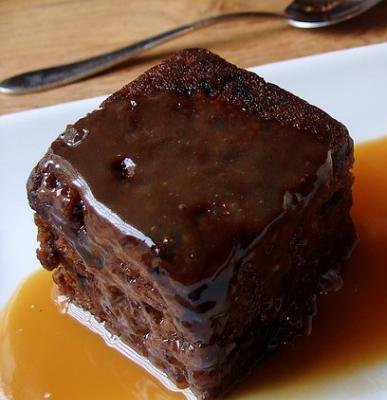 Sweet and Sticky Toffee Pudding

Ingredients
For the Cake:
8 ounces pitted dates, finely chopped
2 teaspoons baking powder
½ cup boiling water
1 ½ cups all-purpose flour
½ teaspoon salt
8 tablespoons (1 stick) butter, room temperature
1 cup sugar
2 eggs
1 tablespoon dark corn syrup
1 teaspoon vanilla extract
For the Toffee Sauce:
2 sticks butter
1 cup light brown sugar, packed
1 tablespoon dark corn syrup
1 cup heavy cream
¼ teaspoon salt
Instructions
Preheat the oven to 350 degrees.
Put the chopped dates into a bowl and sprinkle over 1 teaspoon of the baking powder. Pour over the boiling water and stir slightly. Leave to soak until soft and cooled.
Mix the flour, remaining 1 teaspoon baking powder and salt in a bowl and set aside.
In the bowl of a mixer, cream the butter and sugar until light and creamy. Add the eggs, one at a time, mixing well after each addition. Beat in the corn syrup and vanilla. Add the date mixture and the flour mixture and beat until just mixed.
Spread the batter into a thoroughly greased 8 – inch round or square cake pan. Smooth the top and bake in the oven for 30 – 40 minutes, until a tester inserted in the middle comes out with a few crumbs clinging.
Meanwhile, make the toffee sauce. Melt the butter in a saucepan then stir in the sugar until dissolved. Stir in the heavy cream and salt and simmer over medium heat until thickened and reduced to about 2 1/2 cups. Stir frequently and watch carefully so it does not overboil.
When the cake is done, remove from the oven and invert the cake onto a plate to loosen it from the pan. Return the cake to the pan. Poke holes all over the cake with a skewer or a fork.
Spoon over about a cup of the sauce. Leave the cake to soak for several hours, but it is best left overnight. When completely cool, loosely cover with foil and refrigerate until ready to serve. If you'd like, you can warm the cake gently in a low oven but watch it closely so the sauce doesn't burn.
Invert the saucy cake onto a platter. Pour about a 1/2 cup more sauce over the cake and let it soak in for a few minutes.
Cut into wedges and serve with additional sauce poured on each slice.
Recipe and Photo: Foodista / CC BY