Jump to recipe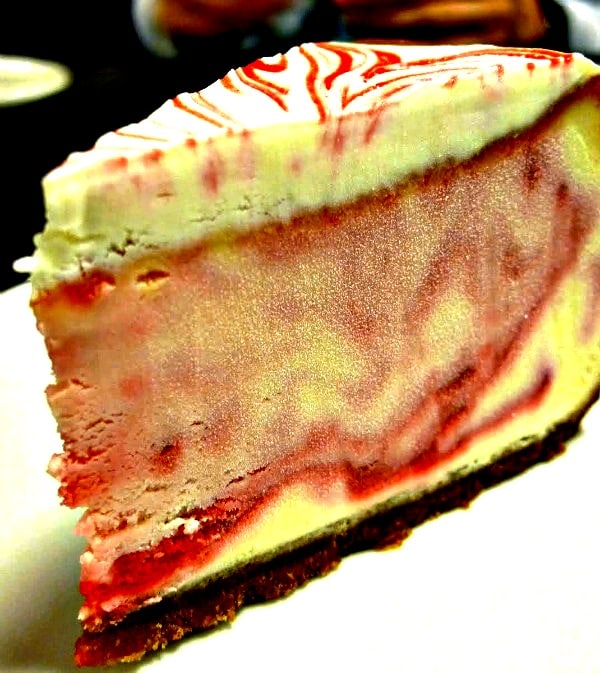 Strawberry Daiquiri Cheesecake

Ingredients
2 1/2 cups graham crackers, crushed (for the crust)
4 ounces butter, melted
1 tablespoon granulated sugar
2 (8 ounce) packages Philadelphia Cream Cheese
4 large eggs
1 cup granulated sugar
2 teaspoons vanilla
1 1/2 cups pureed strawberries
1/2 cup golden rum
3 tablespoons triple sec
Instructions
Crush up the graham crackers into a fine crumb mixture, then melt the 4 oz of butter and add the sugar and butter to the cracker crumbs and mix until well incorporated.
Pack crumb mixture into the bottom of a 9? spring form pan and bake this in the oven @ 325 degree for 8-10 minutes, then take out of the oven and cool.
Mix the filling being sure to have your cream cheese at room temperature.
Add your eggs 1 at a time until mixed well, but you don't want to beat the filling too much for this can cause the cheesecake to crack while baking.
I add the rum and the triple sec at the very last and mix it until mixed well.
Pour filling into the pan and place in the oven @ 325F for approx 1 hr 10 minutes to 1 1/2 hours (Start checking it at 1 hr 10 minute).
I also use a water bath by putting an oven safe bowl underneath the spring form pan on the rack below, you may want to wrap the bottom of your spring form pan with aluminum foil just in case to prevent having a soggy crust.
Once the cheesecake has baked for allotted time, I take it out of the oven and place on a cooling rack and run a knife around the inside on the pan to reduce the chance of the surface cracking.
Let cool for a couple of hrs then place in the frig for another 3-4 hrs before covering and leaving in the frig over night.
Next morning, remove from the frig and run your knife around the inside of the pan one more time and release the spring and remove the bottom from the pan.
Photo: The Hungry Cow / CC BY-SA