Jump to recipe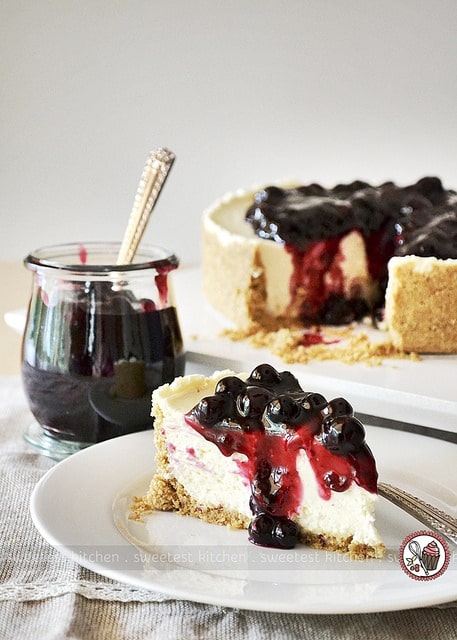 No-Bake Blueberry Cheesecake

Ingredients
CRUST:
2 cups graham cracker crumbs
3 tablespoons melted butter
2 tablespoons brown sugar
FILLING:
12 oz (340g) mascarpone, softened
4 oz (115g) cream cheese, softened
? cup caster sugar
juice of ½ a lemon
1 tablespoon vanilla extract
1½ cup heavy whipping cream
BLUEBERRY SAUCE:
2 cups fresh blueberries (frozen will work as well)
½ cup water
juice of 1 lemon
½ cup plus 2 tablespoons caster sugar
3 tablespoons corn starch dissolved in ¼ cup water
1 tablespoons lemon zest
Instructions
Combine graham cracker crumbs, melted butter and brown sugar in a bowl and mix until the crumbs have been thoroughly coated with the butter. Press firmly into the bottom and sides of an 8-inch springform pan. Chill.
In a medium bowl, combine mascarpone, cream cheese, sugar, lemon juice and vanilla and whisk until smooth and creamy. Set aside.
Whisk cream in another bowl until stiff peaks form. Gently fold the whipped cream into the cream cheese mixture. Pour the filling into the prepared crust, using a flat spatula to flatten the top. Cover and chill several hours or overnight.
For the sauce, combine blueberries, water, lemon juice and sugar in a small saucepan. Cook over medium heat, stirring gently until the sauce reaches a boil. Reduce heat, add the cornstarch & water mixture and stir gently, as to not break the berries, for 3 minutes, or until sauce is thickened. Fold in lemon zest. Pour sauce over the cheesecake before serving. Will keep 2-3 days in an airtight container stored in the refrigerator.
Recipe and Photo: jamieanne / CC BY-ND