Jump to recipe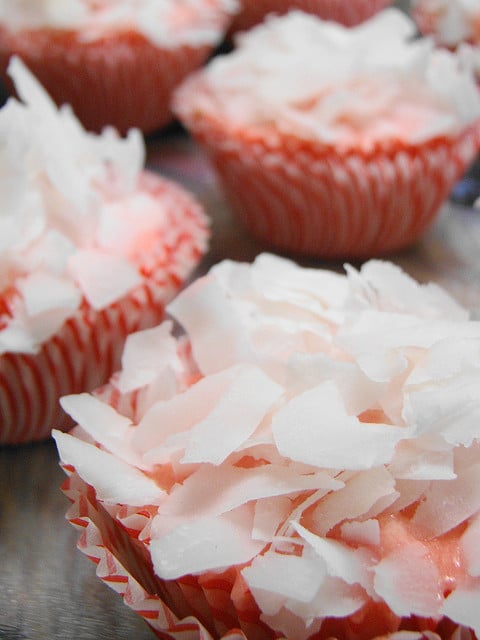 Strawberry Coconut Cupcakes

Ingredients
2 1/2 cups cake flour
2 tbsp baking powder
Pinch of salt
1 1/2 cup raw sugar
1/4 cup vegetable oil
1 tsp vanilla
1 tbsp almond extract
1/4 cup coconut milk
Egg substitute, enough to replace 4 eggs
1/2 tsp cream of tartar
1/2 cup strawberries, diced
1/4 cup coconut.flakes, plus extra for garnish
2 cup powdered sugar
1/4 cup strawberries, pureed
Instructions
Sift together the cake flour,baking powder, and a pinch of salt.
Combine the raw sugar,vegetable oil, vanilla, almond extract, and coconut milk.
Beat your egg substitute and cream of tartar, until stiff peaks form.
Combine the dry and wet mixture. After they are mixed well, fold in your egg mixture. Next add in the strawberries, and 1/4 cup of coconut flakes.
Fill cupcake liners 3/4 full and bake 25 – 30 minutes at 350 degrees.
When cupcakes are done, remove them to a rack and allow to cool completely. Once cool, mix together the powdered sugar and strawberry puree, to form a glaze. Dip each cupcake's top into the glaze, then dip into extra coconut flakes to finish them up.
Photo Courtesy of, and Recipe Adapted from: Vegan Feast Catering on flickr / CC BY