Jump to recipe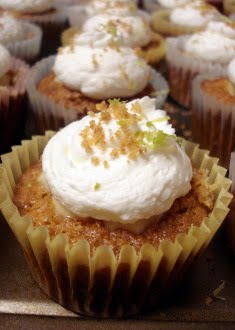 Ingredients
Key Lime Pie Filling
1 14oz can of sweetened condensed milk
1/2 cup key lime juice (yes, I squeezed my own)
3 egg yolks
Whipped Cream
1 cup heavy whipping cream
1/4 cup powdered sugar
Graham Cupcakes
1/2 cup butter (1 stick), softened
1 cups sugar
3 eggs
1 tsp vanilla
1 cup AP flour
1 1/2 cup crushed graham crackers (1 sleeve)
1 tsp baking powder
1 tsp baking soda
dash of salt
1 cup whole milk
Instructions
Key Lime Pie Filling
Preheat oven to 350. In an oven proof bowl, whisk ingredients until smooth and combined. Bake in oven for 15 minutes. Remove and allow to cool before using. You could even put it in the fridge until you need it.
Whipped Cream
In a small bowl, use an electric mixer to beat ingredients until stiff peaks form. Place in refrigerator until needed.
Graham Cupcakes
Preheat oven to 350. Line cupcake pan with paper liners.
In a large bowl beat butter and sugar until light and fluffy.
Beat in eggs one at a time, blending completely after each addition.
Stir in vanilla.
In a separate bowl whisk flour, graham cracker crumbs, baking powder, soda and salt.
Alternate adding flour mixture and milk, beginning and ending with flour.
Place an ice cream scoop full of batter in each cupcake liner.
Transfer to oven and bake for 20 minutes, until toothpick comes out clean and cupcake bounces back.
Once baked, remove from pan and allow to completely cool.
When cupcakes are cool, cut a small crater in each using the coning method…aka using a knife to cut small holes in your cupcake.:
Fill each hole with a spoonful of key lime pie filling.
Top each cupcake with whipped cream (using a piping bag is easiest) and a garnish of graham cracker crumbs and lime zest.
Recipe and Photo: swEEts by e