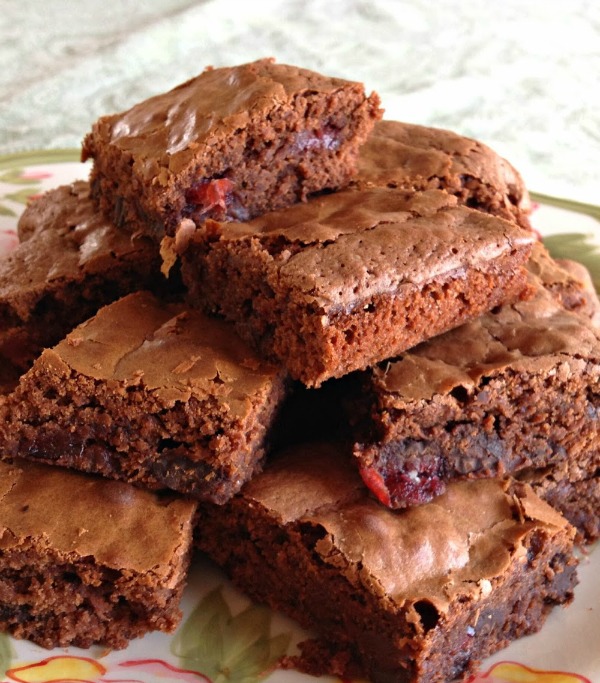 Strawberry and Chocolate Brownies
Ingredients
Strawberry & Chocolate Brownies:
½ cup chocolate (I used left over chocolate candies, otherwise just a break a bar down until you have about ½ cup)
1 tablespoon butter
2 tablespoons canola oil
½ cup white sugar
½ cup dark brown sugar
2 eggs
¼ cup strawberry jam (recipe as follows)
1 cup flour
¼ cup dark chocolate chips
¼ cup dried cranberries
Homemade Strawberry Jam:
½ cup fresh or frozen strawberries
3 tablespoons of sugar, divided
Instructions
In a small saucepan, boil down strawberries and 2 tablespoons of sugar for homemade jam. This will take about 8-10 minutes. Once the fruit has boiled down and thickened remove at once and transfer to a glass bowl. Stir in one more tablespoon of sugar and set aside to cool down completely.
Preheat oven to 350 degrees F.
Line an 8-inch glass dish with parchment paper coming up the sides. Butter the parchment paper and set aside.
In a small bowl, melt down chocolate and butter. Once melted stir in canola oil and sugars. If the mixture is still hot, let it sit for a few minutes to cool a bit before adding the eggs.
Add eggs, stirring after each. Add homemade jam and flour. Fold in chocolate chips and cranberries.
Pour batter into lined baking dish and bake for about 25 minutes.
Lift brownies out of baking dish immediately and transfer to a wire rack to let cool completely before slicing.
If desired, serve with a dollop of whipped cream and a cup of coffee.
https://stlcooks.com/strawberry-and-chocolate-brownies-2/
Recipe and Photo: Foodista / CC BY