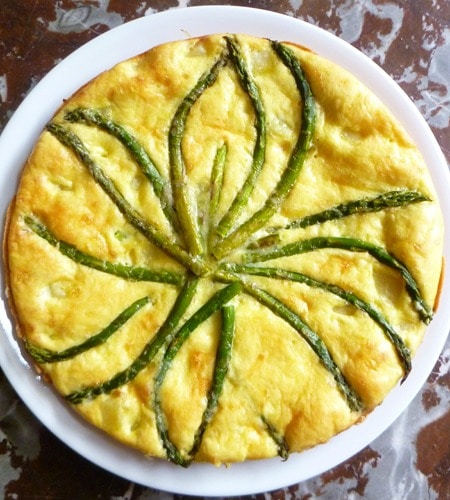 Spring Asparagus Frittata
Ingredients
Frittata

2 tbsp olive oil plus extra for rubbing
6 oz pencil-thin fresh asparagus, spears trimmed of tough ends
½ oz dried morel mushrooms or other dried wild mushrooms
2 oz thin scallions, trimmed of limp green portions
8 large eggs
½ tsp salt, or more to taste
¼ tsp black pepper
1 tbsp grilled red pepper romesco sauce
2 oz parmesan cheese, grated

Grilled red pepper Romesco sauce

2 hefty red bell peppers, about 6 oz. each
½ cup (2¼–oz pkg.) sliced or slivered almonds, toasted
2 cloves garlic
1 tbsp red wine vinegar
1 tbsp sweet paprika, preferably Spanish
½ tsp crushed red pepper
¾ tsp coarse salt, either kosher or sea salt
½ cup olive oil
Instructions
Fire up grill to medium heat.
Rub asparagus and scallions with olive oil. Grill on all sides, for 4 to 6 minutes, or until tender. Remove from heat, and set aside.
Put peppers on grill, and cook until softened and mostly blackened on all sides, for 12 to 15 minutes.
Put peppers in a paper or plastic bag to steam briefly until cool enough to handle. Strip off majority of blackened skins, rinsing your hands as needed.
Slice peppers into chunks, discarding stems and seeds and reserving juices.
Put peppers and any juices, almonds, garlic, vinegar, paprika, crushed red pepper and salt in a blender or food processor.
With motor running, pour in oil, and process until combined and nearly smooth.Set aside.
Soak mushrooms in hot water to cover until soft, for about 15 minutes. Strain off, reserve 2 tablespoons of water and discard grit.
Halve or quarter mushrooms if larger than bite-sized. Chop asparagus and scallions into bite-sized pieces, and set aside.
Preheat oven to 350 °F, or use a covered grill at same temperature.
Whisk together eggs, salt, pepper, grilled red pepper Romesco sauce, 2 tablespoons mushroom-soaking water and about half cheese until combined.
Pour oil into an 8×10-inch ovenproof skillet, preferably nonstick, and heat over medium heat.
Stir in mushrooms, asparagus and scallions, and warm through.
Pat mixture down evenly in skillet.
Pour egg mixture evenly into skillet.
Continue heating until bottom is lightly set, for about 3 minutes more, lifting edges and tilting skillet to allow uncooked egg to flow to bottom.
Scatter remaining cheese over frittata.
Cover, and transfer skillet to oven. Bake until frittata is set to desired firmness, for 10 to 12 minutes.
Slice into wedges, and serve hot, at room temperature or chilled.
https://stlcooks.com/spring-asparagus-frittata/
Recipe and Photo: recipes.wikia.com / CC BY-SA