Jump to recipe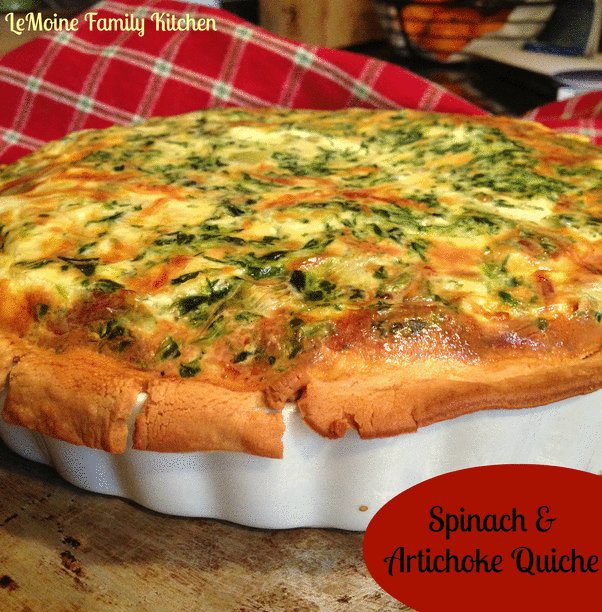 Spinach and Artichoke Quiche

Ingredients
1 refrigerated pie crust
5 eggs
2 10 oz boxes frozen chopped spinach, liquid squeezed out
1 can artichoke hearts, drained and chopped
3 cups light cream
1 1/2 cups shredded Italian blend cheese
2 tsp garlic & herb seasoning
salt & pepper
Instructions
A really important part to making a quiche is par cooking the crust before baking the quiche. This prevents the crust from getting soggy, because no one likes a soggy crust.
Preheat your oven to 325 degrees.
Roll out the pie crust and place into a pie dish pressing the crust up the sides of the dish. Using a fork poke the bottom of the crust, this prevents the crust from bubbling up. Bake for 10 minutes or until just very lightly golden brown.
While the crust is baking go ahead and whisk together the eggs, light cream, garlic and herb seasoning, salt, pepper and shredded cheese in a bowl.
Add enough of the very well squeezed out spinach and chopped artichoke hearts to fill the pie crust 3/4 of the way up. Pour the liquid mixture over top. Using a spoon, gently move the mixture around a bit to combine.
Bake for approx 45 minutes, until golden and barely "jiggly". You can also test by inserting a toothpick and if it comes out wet, allow to cook a little longer.
Recipe and Photo: Foodista / CC BY