Jump to recipe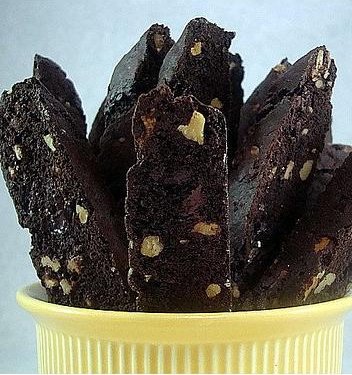 Dark Chocolate Walnut Biscotti

Ingredients
1 cup all-purpose flour
1/4 cup dark cocoa powder
1/2 teaspoon baking soda
1/2 teaspoon salt
3 tablespoons unsalted butter, softened
1/2 cup granulated sugar
1 large egg
1/2 cup walnuts, chopped
1/2 cup semisweet chocolate chips
1/2 tablespoon confectioners' sugar
Instructions
Preheat oven to 350°F. and butter and flour a large baking sheet.
In a bowl whisk together flour, cocoa powder, baking soda, and salt. In another bowl with an electric mixer beat together butter and granulated sugar until light and fluffy.
Add eggs and beat until combined well. Stir in flour mixture to form a stiff dough. Fold in/mush in with hands the walnuts and chocolate chips.
On prepared baking sheet with floured hands form dough into two slightly flattened logs, each 12 inches long and 2 inches wide, and sprinkle with confectioners' sugar. (I forgot) Bake logs 35 minutes, or until slightly firm to the touch.
Cool biscotti on baking sheet 5 minutes. On a cutting board cut biscotti diagonally into 3/4-inch slices. Arrange biscotti, cut sides down, on baking sheet and bake for 10 minutes. Flip over the biscotti pieces and cook again for 10 minutes, until crispy. Cool biscotti on a rack.
Recipe and Photo: Foodista / CC BY