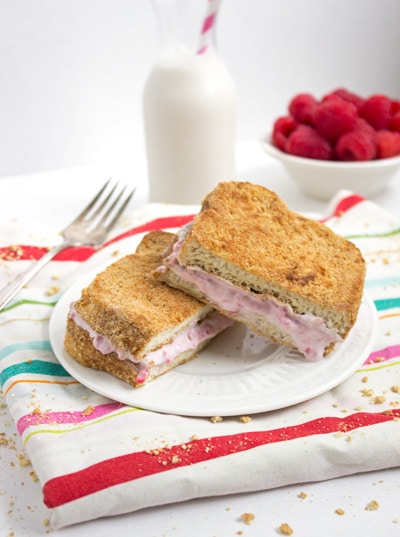 Skinnier Raspberry Cheesecake French Toast
Ingredients
For the French Toast:

4 Slices, thick French bread
¾ Cup Reduced fat graham cracker crumbs *
1 Egg
2 Egg Whites
½ tsp Vanilla extract
¼ Cup + 2 Tbsp Sugar Free Vanilla almond milk
¼ tsp Cinnamon
3 Tbsp Splenda

For the Cheesecake Filling:

¼ Cup Raspberries
¼ Cup + 2 Tbsp Fat free or reduced fat cream cheese
1 Tbsp I can't believe it's not butter (regular butter works too)
¼ Cup + 2 Tbsp Splenda
½ tsp Vanilla extract
Instructions
In a large, shallow dish, mix the egg, egg whites, vanilla, vanilla almond milk, cinnamon and Splenda.
Place 4 slices of bread in the egg mixture and let soak for 15 minutes per side.
While the bread soaks, it's time to make the filling.
In a medium bowl, beat the raspberries, cream cheese, butter, Splenda and vanilla extract until light, about 1 minute. Set aside.
When the french toast has finished soaking, pour the graham cracker crumbs onto a plate.
Spray a large griddle or pan with cooking spray and heat at medium/high heat.
Dip each side of all four slices of bread into the crumbs and lay onto the pre-heated griddle.
Cook each side until golden and crispy, flipping each slice once. This will take about 5-6 minutes a side, watch it carefully!
Once the toast is all cooked up, spread 2 slices with the cheesecake filling and top with remaining 2 slices of bread.
Notes
If you want to make this even lighter, cut the graham cracker crumbs in half, and only coat one side of each piece of bread. This way you can spread the filling on the un-crumbed sides and still have crispy outsides, with less calories.
https://stlcooks.com/skinnier-raspberry-cheesecake-french-toast/
Image and recipe reprinted with permission from www.foodfaithfitness.com and www.healthyaperture.com