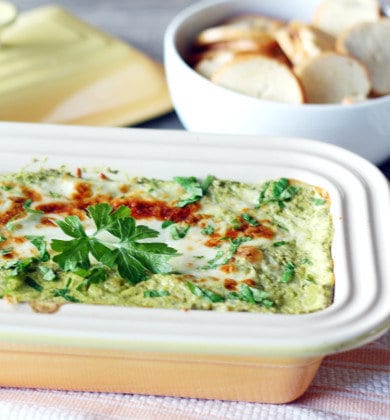 Hot Spinach and Artichoke Dip
Ingredients
1 can artichoke hearts, 14 ounces
3 cloves garlic, small
5 ounces baby spinach
1 tablespoon onion, minced
8 ounces 1/3 less fat cream cheese
1/2 cup parmesan cheese, shredded
1/2 cup mozzarella cheese, shredded
Instructions
Preheat the oven to 375°F.
Drain and rinse the artichokes
Combine the artichokes, garlic cloves, spinach and onion in a food processor and process until finely chopped.
Add the cheeses to the food processer, leaving a small amount of mozzarella aside to later sprinkle on top of the dip. Process until smooth.
Transfer the mixture to a baking dish and sprinkle the remaining cheese on top.
Cover and bake for 30 minutes.
Remove the cover and bake until the cheese has slightly browned. (about 5-10 minutes)
Serve hot with slices of bread or unsalted pita chips.
https://stlcooks.com/hot-spinach-and-artichoke-dip/
Image and recipe reprinted with permission from www.foodfanatic.com and www.healthyaperture.com