Jump to recipe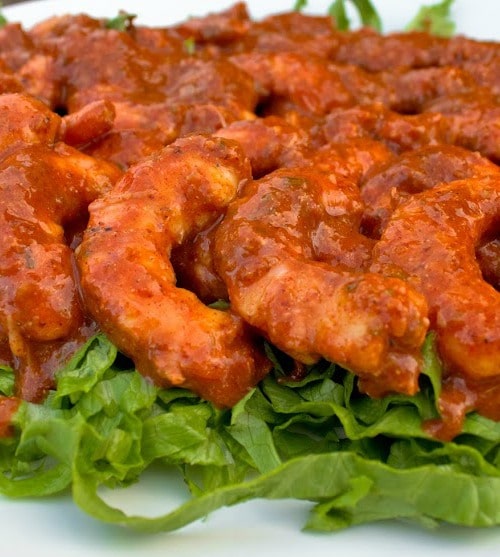 Shrimp Remoulade

Ingredients
1 oz. Extra Virgin Olive Oil
1/4 Cup Vegetable Oil
Remoulade Sauce
1 Large Rib Celery, Chopped
2 Green Onions, Chopped
1 Garlic Clove, Chopped
1 Tbsp Italian Parsley, Finely Chopped
2 Tbsp Creole Mustard
2 Tbsp Paprika
1/4 Cup Red Wine Vinegar
1 Tbsp Fresh Lemon Juice
1 tsp Worcestershire Sauce
1 Tbsp Prepared Horseradish
2 tsp Hot Sauce (I use Crystal)
2 Tbsp Ketchup
Kosher Salt & Black Pepper To Taste
1/2 tsp Cayenne or to taste
Boiled Shrimp
1 tsp Mustard Seed
1 Tbsp Black Peppercorns
3 Tbsp Kosher Salt
1 Tbsp Cayenne
2 Fresh Bay Leaves
1 Rib Celery Chopped
1 tsp Whole Allspice
5 Whole Cloves
1/2 of 1 Lemon
6 Cups Water
12-16 Shrimp (16/20 Ct)
Instructions
Remoulade Sauce
Combine the "remoulade sauce" ingredients in a food processor, process until smooth. With the motor still running, slowly drizzle in:
1 oz. Extra Virgin Olive Oil
1/4 Cup Vegetable Oil
The emulsion should be fairly thick. Adjust the seasonings and refrigerate overnight.
For the Shrimp, I used a 16/20 Count Shrimp. When cooking Cocktail Shrimp it's important to leave the shells on, both for flavor and to prevent the shrimp from curling up too much. I don't cook these long at all, it's actually more of a steep.
Boiled Shrimp
Combine all "boiled shrimp" ingredients, except for the shrimp, in a large saucepan. Bring to a boil, reduce the heat and simmer partially covered for 20-30 minutes. Prepare an ice bath, call it 6 cups ice and 6 cups cold water. Return the liquid to a boil. Add shrimp.
Turn off the heat. Wait 2 minutes (make sure the Shrimp are white all the way through), then remove them to the ice bath. When they're completely cooled, remove the shell, keeping the tail intact, then devein.
Coat the shrimp in a small amount of the sauce and marinate for about 15-20 minutes.
To serve the Shrimp Remoulade, cover the base of 2 chilled appetizer or salad plates with shredded lettuce. Tastefully arrange the shrimp on top of the lettuce, 6 per plate, and garnish with green onions, thinly sliced on the bias.
Recipe and Photo: NOLA Cuisine / CC BY-NC-ND