Jump to recipe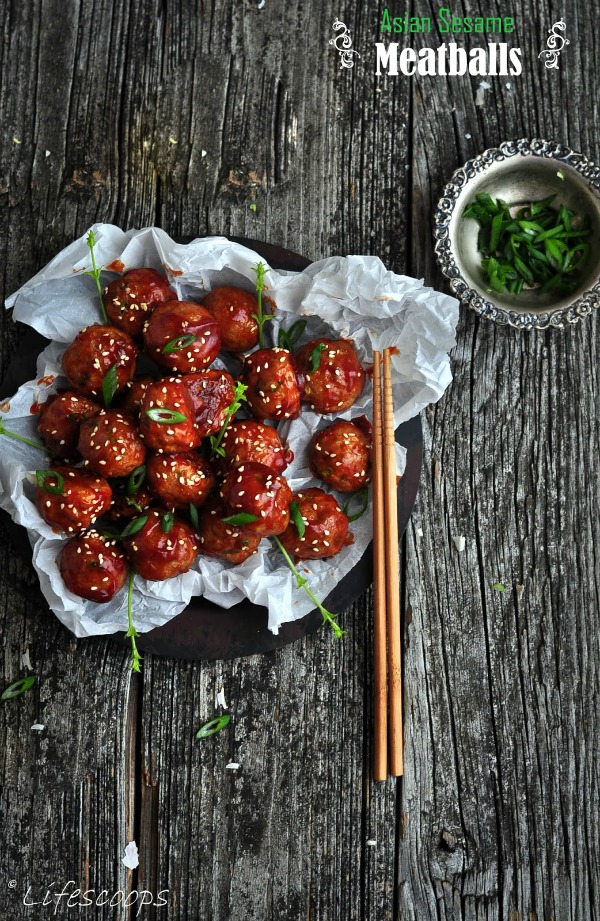 Notes
These meatballs freeze very well. So it be included under the make ahead appetizer list.


Do not over mix the meat, it will make the meatballs tough.


You can make them with lean ground turkey to make them low fat


Toasting the sesame seeds enhances their flavor. Just toast them on a pan until golden brown. It take less than 5 minutes


If you don't have Sriracha sauce, you can substitute it with any chilli sauce



Ingredients
For Meatballs
2 lbs. – Ground Turkey/ Chicken/ Pork/ Beef (any)
2 Cup – Breadcrumbs, or panko breadcrumbs
3/4 Cup – Green onions / Spring Onions / Scallions, thinly sliced
2 – Eggs
1 Tablespoon – Sesame Seed oil
2 Teaspoon – Fresh ginger, grated
2 Teaspoon – Garlic, grated
1 Tablespoon – Sriracha sauce
2 Tablespoon – Soy sauce
1 Teaspoon – Pepper powder
Salt to taste
For Sauce
1/2 Cup – Ketchup
1/8 Cup – Soy sauce
1 Tablespoon – Sriracha sauce
1 Tablespoon – Sesame Seed oil
1 Tablespoon – Honey
To Garnish: Toasted sesame seeds & sliced scallions
Instructions
Preheat oven to 400.
Line a baking sheet with aluminum foil and spray it with oil
In a large bowl, whisk the eggs.
Mix in sesame oil, ginger, garlic, sriracha sauce , soy sauce, pepper and salt
Add the ground meat, bread crumbs and green onions and mix. Do not over mix.
Shape into balls about 1 inch in diameter
Place on a greased baking sheet and bake for 18-20 minutes, or until there is no pink on the inside.
While the meatballs are baking, take a large heavy bottom pan and add all the ingredients mentioned under the sauce and whisk.
Once the meatballs are ready, add them to the sauce
Garnish with toasted sesame seeds and sliced scallions/green onions – Enjoy!!!
Recipe and Photo: Lifescoops / CC BY