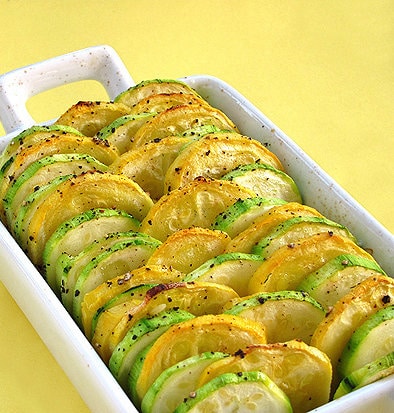 Roasted Summer Vegetables
Ingredients
3 zucchini
3 yellow squash
1 ½ tablespoon kosher salt½ black pepper
2 tablespoon extra virgin olive oil
---
Instructions
Heat oven to 400 degrees F.
Peel vegetables and slice into ¼ inch thick slices.
Assemble vegetables to your preferred dish and drizzle olive oil on top. Finish preparation with kosher salt and black pepper
Bake at 400 degrees F for 30 minutes.
Notes
1. I like my vegetables crisp, but you prefer a softer texture cook them for 5-7 minutes longer than the instructions call for.


2. You can skip the casserole dish assembly all together and just place the slice vegetables onto a bake sheet lined with foil.


https://stlcooks.com/roasted-summer-vegetables/