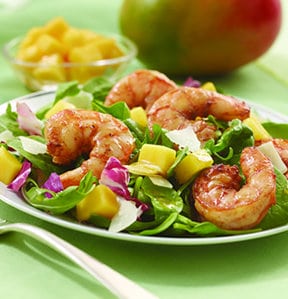 Recipe: Roasted Shrimp and Mango Salad
Ingredients
2 pounds large shrimp, peeled and deveined
6 tablespoons extra virgin olive oil, divided
2 teaspoons paprika
Salt and pepper
2 tablespoons lemon juice
1 tablespoon honey
6 cups mixed baby lettuces, washed and dried
2 large mangos (about 2 pounds), peeled, pitted and diced
1/4 cup shaved or shredded Parmesan cheese
Instructions
Preheat oven to 400°F.
On large rimmed baking sheet, toss shrimp with 2 tablespoons extra virgin olive oil, paprika, 1/4 teaspoon salt and 1/4 teaspoon pepper. Roast until pink and cooked through and beginning to lightly brown, 8 to 10 minutes.
Remove from oven and transfer to bowl to chill in refrigerator.
In large bowl, whisk together remaining 4 tablespoons extra virgin olive oil, lemon juice and honey. Season with salt and pepper.
Toss lettuce, mango and chilled shrimp in olive oil lemon juice mixture. Divide among plates, and sprinkle with Parmesan.
For more great recipe ideas visit The National Mango Board
Recipe and photo courtesy of The National Mango Board