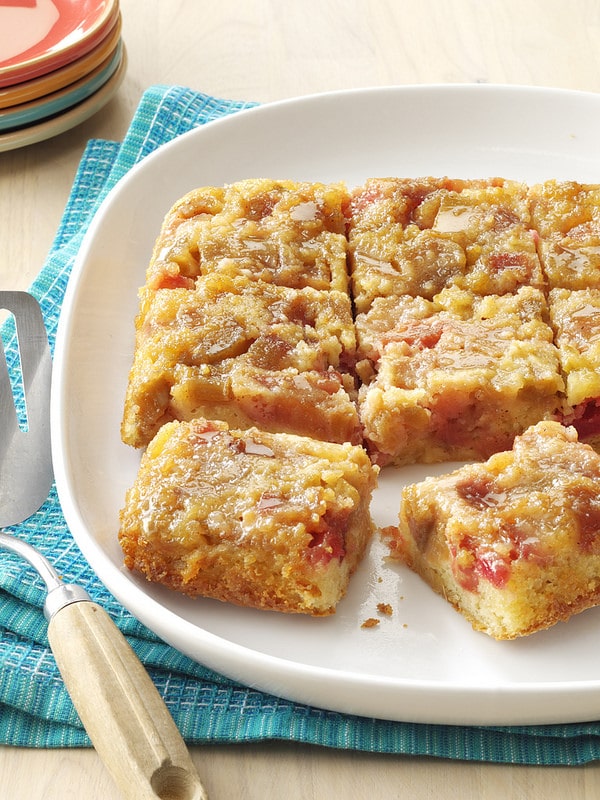 Ingredients
3 cups cubed fresh or frozen rhubarb (1–inch, about 8 stalks)
3/4 cup sugar
3/4 cup water
1 tablespoon lemon juice
1/2 teaspoon ground cinnamon
1/4 teaspoon ground nutmeg

CAKE:

3 tablespoons butter, melted
1/4 cup packed brown sugar
1 cup King Arthur Unbleached All-Purpose Flour
1 teaspoon baking powder
1/4 teaspoon salt
2 eggs
2/3 cup sugar
1 teaspoon lemon extract
Instructions
Preheat oven to 350°. In a large saucepan, combine the first six ingredients; bring to a boil. Reduce heat; simmer, uncovered, 6-8 minutes or until rhubarb is crisp-tender, stirring to dissolve
sugar. Drain, reserving 6 tablespoons cooking liquid.
Pour butter into an 8-in.-square baking dish. Sprinkle with brown sugar; top with drained rhubarb. Sift flour, baking powder and salt together twice.
In a large bowl, beat eggs on high speed 3 minutes. Gradually add sugar, beating until thick and lemon-colored. Beat in extract and reserved cooking liquid. Fold in flour mixture. Pour over rhubarb. Bake 35-40 minutes or until top springs back when lightly touched.
Cool 10 minutes before inverting onto a serving plate. Serve warm.
https://stlcooks.com/rhubarb-upside-down-cake/
Recipe and Photo: Foodista / CC BY