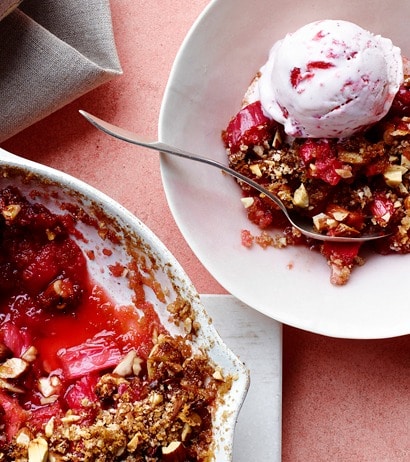 Recipe for Rhubarb Brown Betty – The combo of chunks of rhubarb with bread crumbs, cinnamon and sugar doesn't sound like much of a dessert. But when cooked, something special happens and a wonderful treat emerges.
Ingredients
1 lb rhubarb
8 oz breadcrumbs
2 oz raw sugar
1/2 tsp ground ginger
2 fl oz fresh orange juice
1/2 pint natural yogurt, to serve
Instructions
Trim the rhubarb and cut the stalks into short lengths.
Put in a greased 9-inch round ovenproof dish.
Mix the breadcrumbs, Sugar and ground ginger together and sprinkle over the fruit.
Spoon the orange juice over the crumbs.
Bake in the oven at: 340F for 35– 45 minutes or until the fruit is soft and the topping browned.
https://stlcooks.com/rhubarb-brown-betty/
Recipe and Photo: recipes.wikia.com / CC BY-SA