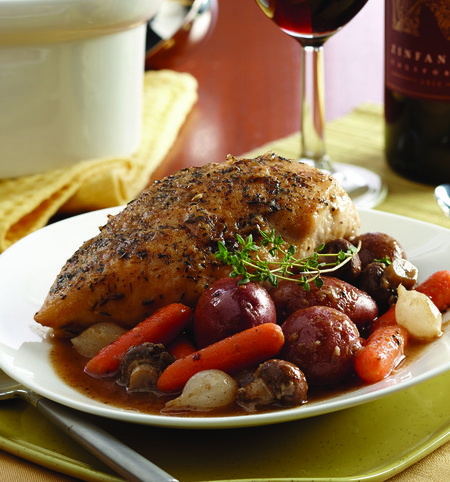 Quick and Healthy Slow Cooker Chicken and Potatoes
Ingredients
2 teaspoons Herbs de Provence (or combination of dried thyme, fennel, basil and savory)
1 teaspoon garlic salt
Freshly ground pepper to taste
1/2 cup flour
1 tablespoon canola oil
4 small (2 pounds) bone-in-chicken breasts, skin removed
1 1/4 pounds small Wisconsin red potatoes
3/4 cup frozen, thawed pearl onions
1 cup small baby carrots
3/4 cup reduced-sodium chicken broth
8 ounces small baby bella or white mushrooms
Chopped fresh thyme (optional)
Instructions
Combine Herbs de Provence, garlic salt, and pepper on a dinner plate.
Spoon flour onto a second dinner plate.
Coat each chicken breast with herb mixture; then dredge in flour.
Heat oil in a large skillet.
Add chicken and cook over medium-high heat until chicken is golden brown on both sides (approximately 3 to 4 minutes per side). If necessary, cook chicken in two batches so as not to crowd the pan.
Once browned, place chicken in large slow cooker and add all remaining ingredients, except fresh thyme.
Cover slow cooker and cook on high for 4 hours or on low for 8 hours.
Sprinkle with fresh thyme before serving, if desired.
https://stlcooks.com/quick-and-healthy-slow-cooker-chicken-and-potatoes/
Source: Renwood Winery / Wisconsin Potatoes