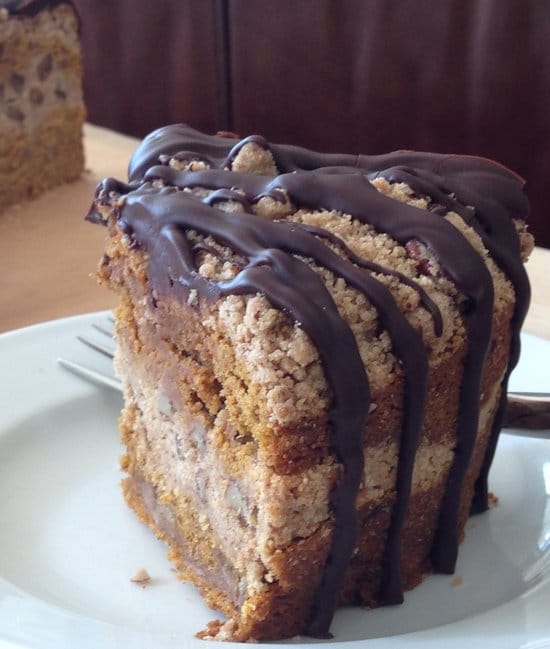 Pumpkin Pecan Streusel Cake
Ingredients
For the streusel:

1/4 cup brown rice flour (all flours used are by Bob's Red Mill)
1/4 cup gluten free oat flour
1/4 cup white rice flour
1/4 cup sorghum flour
1/2 cup firmly packed light brown sugar
1 teaspoon ground cinnamon
1/2 teaspoon kosher salt
4 tablespoons Earth Balance Soy Free Spread, broken up into small pieces
1 cup chopped pecans Coconut Oil or Vegetable Oil spray for greasing the cake pan

For the batter:

1/2 cup coconut yogurt, vanilla flavor (So Delicious brand)
1 teaspoon apple cider vinegar
3/4 cup white rice flour
1/2 cup tapioca flour
1/4 cup gluten free oat flour
2 teaspoons aluminum free baking powder
1/2 teaspoon aluminum free baking soda
3 teaspoons ground cinnamon
1 teaspoon ground ginger
1/2 teaspoon ground nutmeg
1/2 teaspoon kosher salt
4 ounces Earth Balance Soy Free Spread (about 8 tablespoons)
1 cup firmly packed light brown sugar
2 medium ripe bananas, mashed
1 cup roasted pumpkin puree (I made it from scratch)

For the chocolate glaze:

1 bag Enjoy Life brand mini chocolate chips
1/4 cup Earth Balance Soy Free Spread
Instructions
Preheat oven to 350°F.
Grease and flour a 9-inch spring form pan or a 9-inch cake pan with 3-inch sides (recommended by Williams Sonoma). I used an Angel Food Cake Pan.

For the streusel:

Combine the flours, brown sugar, cinnamon and kosher salt in a small bowl.
Add Earth Balance Soy Free Spread into the dry ingredients.
Work the spread into the mixture with your hands until the mixture looks like coarse crumbs.
Add the pecans, combine. Set aside.

For the batter:

Measure your coconut milk and add the apple cider vinegar to it.
Let it sit without mixing to become "sour-creamy" looking. Set aside.
In a medium bowl, sift together, or whisk the flours, baking powder, baking soda, cinnamon, ginger, nutmeg and kosher salt.
In the bowl of an electric mixer fitted with the flat beater, beat together the butter and brown sugar on medium-high speed until well combined.
Add the mashed banana, scraping down the sides of the bowl with a rubber spatula when needed.
Add the pumpkin puree and "sour cream" mixture and continue to mix on low speed.
Add in the flour mixture.
The batter will be quite thick which is how it should be.
Note: If your batter is not thick for some reason add 1/4 cup of white rice flour.
Spread half of the thick batter into the prepared pan.
Sprinkle half of the streusel over the batter.
Add the remaining batter over the streusel and spread the thick batter evenly.
Evenly spread the remaining streusel over the batter.
Bake 55-60 minutes, or until a toothpick inserted into the center of the cake comes out clean.
Transfer the cake in the pan to your stovetop and let it cool for about 40 minutes.
When cooled, remove the sides of the cake from the pan using a spreader type knife, or something that will not scratch your cake pan.
Gently lift up the cake by pressing the removable bottom upwards.
I then refrigerated the cake with the bottom part still holding the cake for about an hour.
Transfer the chilled cake to a cake platter.
Put pieces of wax or parchment paper under the edges of the cake to keep the glaze drips from making a mess of your platter.

For the glaze:

In a glass bowl set over a small saucepan with simmering water, combine mini chips with Earth Balance spread.
Mix often to get a glossy sheen.
When completely melted take off the saucepan and let it cool for 5 minutes before glazing the cake.
Using a large spoon drizzle melted chocolate over the top of the cake.
Slowly pull out the papers along the cake.
Serve chilled, or room temperature.
https://stlcooks.com/pumpkin-pecan-streusel-cake/
Recipe and Photo: Foodista / CC BY