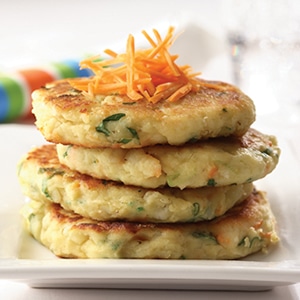 Recipe: Potato Pancakes
Ingredients
4 medium Yukon Gold potatoes
1/4 cup hot milk
2 tablespoons canola oil margarine or canola oil butter blend
Salt and pepper to taste
1/2 cup grated carrots
1/4 cup finely chopped onion
1/4 cup chopped green onions
2 tablespoons freshly chopped parsley
2 tablespoons all-purpose flour
1 teaspoon salt
1/4 teaspoon pepper
2 to 3 tablespoons canola oil
Instructions
Quick and easy microwave mashed potatoes: Place whole potatoes (do not poke) into microwave-safe dish. Cover dish. (If covering dish with plastic wrap, poke small hole in plastic.) Microwave on high for 9 minutes or until potatoes are done. Use oven mitts to remove dish from microwave; carefully remove cover from dish due to steam build-up. Add milk, canola oil margarine or butter blend, salt and pepper to taste. Using potato masher, mash potatoes to desired consistency.
To prepare pancakes: In large mixing bowl, combine mashed potatoes, carrots, onions, parsley, flour, salt and pepper. Mix well.
In large fry pan, heat canola oil. Spoon vegetable mixture, about 1/3 cup at a time, to form pancakes. Cook pancakes over medium heat for 3 to 4 minutes per side, or until cooked through and golden brown. Add additional canola oil as needed to cook remaining pancakes.
Preparation time: 18 minute(s)
Cooking time: 12 minute(s)
Number of servings (yield): 8
Recipe and Photo Courtesy of United States Potato Board