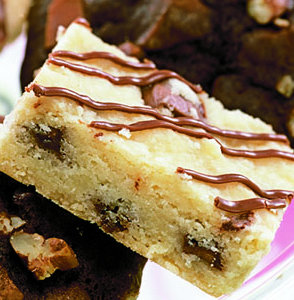 Recipe: Polka Dot Shortbread Bars
Ingredients
12 (3.3-ounce bag) Hershey's Sugar Free Chocolate Candies, divided
3/4 cup (1-1/2 sticks) butter, softened
7 tablespoons sucralose, granular form (Splenda)
2 teaspoons vanilla extract
1-3/4 cups all-purpose flour
Instructions
Heat oven to 350°F. Grease 8 or 9-inch square baking pan. Remove wrappers from chocolates; chop 10 chocolates in 1/4-inch pieces. Set aside.
Beat butter, sucralose and vanilla until well blended.
Gradually beat in flour. (Dough will be crumbly, but moist.) Stir in chocolate pieces. Pat dough into pre- pared pan.
Bake 30 to 35 minutes or until lightly browned. Remove from oven; immediately cut into bars. Cool completely in pan on wire rack. Remove bars from pan; place on sheet of waxed paper.
Place remaining 2 chocolates in small microwave-safe bowl. Microwave at HIGH (100%) 30 seconds; stir. If necessary, microwave at HIGH 10 seconds at a time, stirring after heating, until chocolate is melted. Drizzle bars.
Recipe and Photo Courtesy of Hershey's® Sugar Free Chocolate Candies