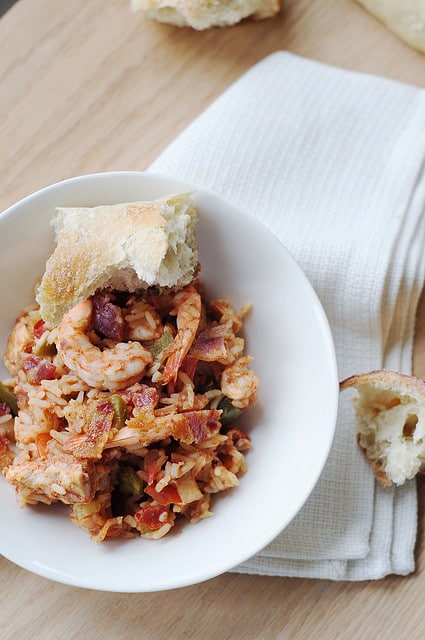 Chicken and Shrimp Jambalaya
Ingredients
1 pound medium shrimp
2 boneless chicken breast halves
1 cup chopped onion
1/2 cup chopped celery
3 medium garlic cloves, minced
2 teaspoons salt
1 tablespoon olive oil
8 ounces smoked sausage, such as andouille or Polish sausage, 1/4-inch slices
1/2 cup chopped green bell pepper
1/4 cup chopped green onion
1 (14.5 ounces) can diced tomatoes in juice
1 tablespoon Worcestershire sauce
1/4 teaspoon thyme
1/4 teaspoon ground cayenne pepper
2 cups long-grain rice
---
Instructions
In a large saucepan of boiling salted water, boil the shrimp over high heat just until they turn pink, about 2 minutes. Cool, peel, and devein the shrimp, reserving the shrimp and their shells separately.
In a large saucepan, combine the chicken breasts, the reserved shrimp shells, 4 cups of water, half the chopped onion, half the chopped celery, 1/3 of the garlic, and 1 teaspoon salt. Bring to a simmer over medium-high heat. Reduce the heat to medium-low and cook, partially covered, until the chicken juices run clear yellow when pierced with a fork, about 15 to 20 minutes. Remove the chicken breasts from the cooking liquid.
In a strainer set over a large bowl, drain and reserve the cooking liquid, discarding the shells and vegetables. If necessary, add enough water or chicken broth to make 4 cups. Chop the chicken coarsely and set aside with shrimp.
Heat the oil in a 5-quart Dutch oven or heavy kettle. Add the sausage, green bell pepper, green onion, remaining 1/2 cup onion, remaining 1/4 cup celery, and remaining garlic and cook over medium heat, stirring often, about 5 minutes, or until lightly browned. Stir in the reserved cooking liquid, the remaining teaspoon of salt, the tomatoes with their juice, Worcestershire sauce, thyme, and cayenne pepper. Bring mixture to a simmer, breaking up the tomatoes with a spoon. Stir in the rice; simmer over medium-low heat, tightly covered, until the rice has absorbed all the liquid, or about 25 minutes.
Remove the kettle from the heat, stir in the reserved shrimp and chicken, cover, and heat through. If desired, sprinkle jambalaya with green onion or parsley before serving.
https://stlcooks.com/chicken-and-shrimp-jambalaya/