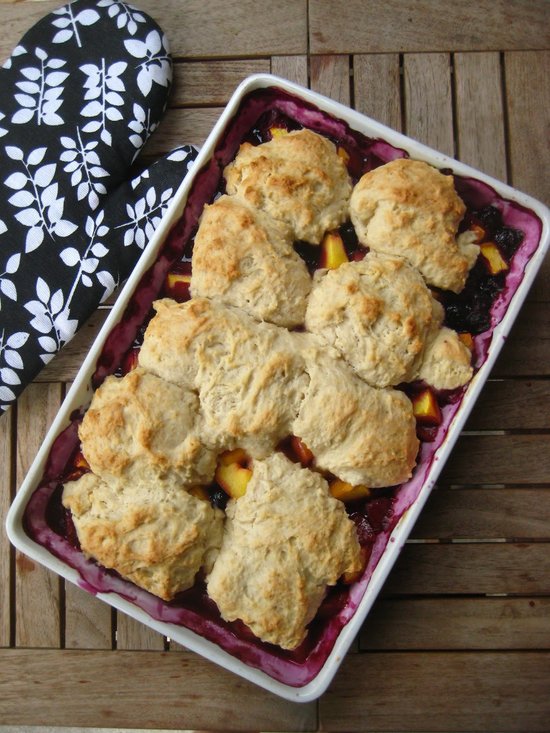 Peach and Blueberry Cobbler
Ingredients
7-8 ripe peaches, washed, pitted and chopped
1 1/2 cups fresh blueberries
1 tsp. cornstarch
3-4 tbsp. brown sugar
1 tbsp. fresh lemon juice
1 tbsp. fresh grated ginger
2 cups flour
2 tsp. baking powder
1/4 cup sugar
1/2 cup chilled butter, cut into chunks
1 cup cream or milk
1/2 tsp. almond extract
Instructions
In a large bowl gently toss peaches, blueberries, brown sugar, cornstarch and lemon juice. Transfer to a large casserole baking dish.
In a separate bowl combine flour, baking powder and sugar. Cut in butter until the pieces are small, about the size of a pea.
Add milk and almond essence to the flour mixture and stir together until a soft and sticky dough forms. Scoop heaped spoonfuls of dough on top of the fruit mixture to form "cobbles".
Bake in a preheated oven at 375 F for 40 minutes, or until the cobbler is golden brown.
Allow to cool for 10-15 minutes before serving with a scoop of vanilla ice cream, frozen yogurt or a dollop of whipped cream.
https://stlcooks.com/peach-and-blueberry-cobbler/
Recipe and Photo: Little Toast / CC BY