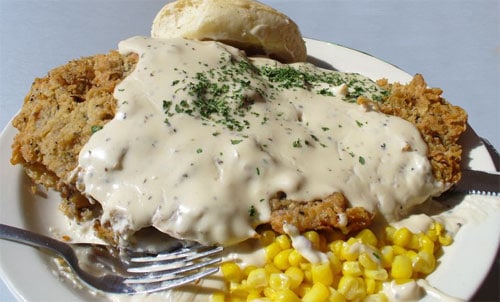 Mothers Country Fried Steak
Ingredients
1 3/4 lb. round steak, sliced 1/2 inch thick
2 large eggs
2 tbsp. water
1/3 c. All purpose flour
1/3 c. cornmeal
1 tsp. salt
1/2 tsp. pepper
4-6 tbsp. EVOO

Pan Gravy:

2 tbsp. flour
About 1 1/2 c. milk (you can also replace this with 1 can cream of mushroom soup if you don't have milk)
1/2 tsp. kosher salt
1/8 tsp. pepper
Instructions
Pound steak to 1/4 inch thickness, cut into 6 pieces. Beat eggs and water together in pie plate. Mix flour, cornmeal, salt and pepper on waxed paper. Dip steaks first in plain flour, then in egg mixture. Dip in seasoned flour mixture to coat well.
Brown meat, 3 pieces at a time, in hot oil on both sides in a large heavy skillet. Return all meat to skillet; lower heat; cover. Cook 20 minutes or until tender.
Remove steaks to heated platter. To prepare pan gravy, pour off all but 3 tablespoons of the pan drippings; blend in some flour. Stir in milk, salt and pepper to taste. Continue cooking and stirring until gravy thickens and bubbles 1 minute (be sure all flour is gone). If gravy is too thick, add a little more milk.
https://stlcooks.com/mothers-country-fried-steak/
Recipe and Photo: Ordinary Recipes Made Gourmet / CC BY