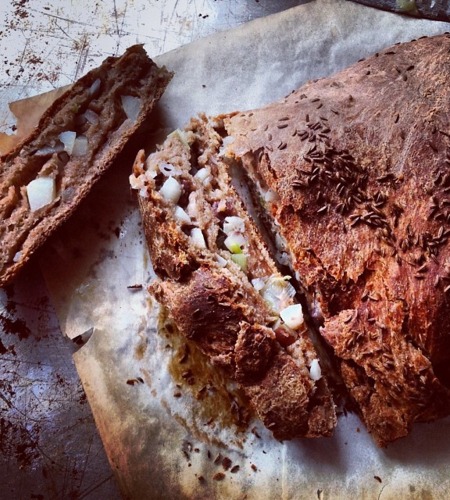 Easy Irish Potato Chive Bread
Ingredients
3 cups sprouted spelt flour
1 1/4 tsp sea salt
1 tsp yeast
1 1/3 cup water or whey from making cheese (55-60 f )
1 tbsp local honey
1 red potato, diced with skins on
1 cup chopped chives or 4 stalks green onions, sliced
1 tbsp Herbs de Provence
2 tbsp caraway seeds, optional for topping
Instructions
Thoroughly combine flour, salt and yeast.
Add the whey or water and honey.
When mixed the dough will be sticky.
Cover loosely and allow to rise in a warm environment for 12 to 18 hours.
Dust a piece of parchment with flour and remove dough from the bowl.
Stretch the dough and top with the stuffing ingredients (herbs, potatoes and chives) and roll up dough, then fold it back together, leaving the crease resting on the paper.
Cover with a towel and let rise for 2 hours.
You can either bake it in this form or twist it in to a circle and place in your cast iron pot.
After 90 minutes of the rising time place your pot or baking stone in an oven that has been preheated to 475 f.
When the dough finishes rising, sprinkle with seeds and carefully slide it into the hot pot or onto the stone.
Bake 30 minutes.
https://stlcooks.com/easy-irish-potato-chive-bread/
Recipe and Photo: Foodista / CC BY