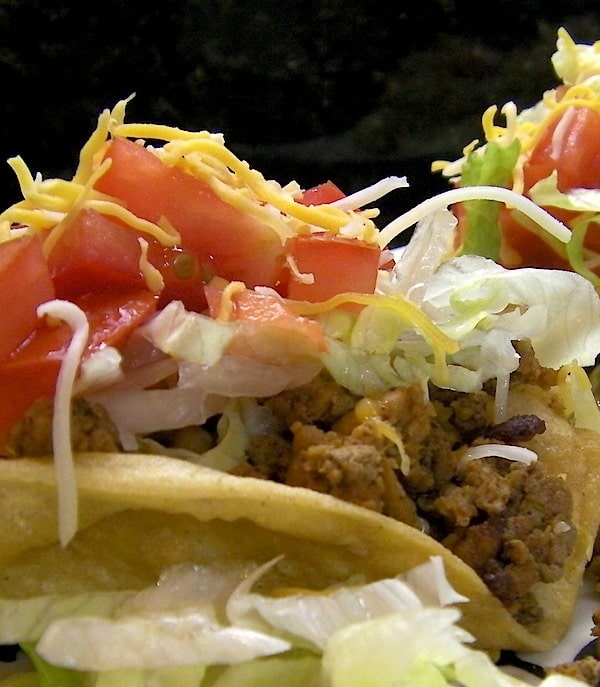 Ingredients
1 pkg Corn Tortillas
1 1/2 lbs ground beef or turkey
1/4 onion, diced
1 cup shredded cheddar cheese
1/4 head iceberg lettuce, shredded
2 medium tomatoes, diced
2 cups canola oil
1 Tbsp Red Chile Powder
1/2 tsp garlic powder
1 tsp salt
1/4 tsp pepper
Sour Cream (optional)
Instructions
Prepare toppings. Shred cheese. Shred lettuce and dice tomato. Set aside.
Fry ground beef till 75% cooked then add salt, pepper, garlic powder and chile powder. Stir and add diced onion. Cook for 5 more minutes on medium heat or until beef is completely cooked and onions are soft. Drain excess oil (if beef was not lean) and set aside, covered and on a very, very low heat to keep warm.
In separate medium sauce pan, heat canola oil to medium high heat. When oil is hot and ready (tortilla should sizzle when touching oil), begin by placing one tortilla in pan. Using metal tongs, squeeze in sides of tortilla to begin forming a bowl and hold for 15-20 seconds or so. Then squeeze the oposite sides of the tortilla and hold while cooking another 20 seconds.
Once bowl form is holding, you can let go and simply let bowl cook in oil. You can flip over to crisp or push bowl down with tongs to make sure whole bowl is crispy.
When done (about 4 mins), remove and drain on paper towel.
OK, you're ready to build your taco salad bowls! Place two or three tablespoons of seasoned meat in each bowl and top with lettuce, tomatoes, shredded cheese and salsa. You can add sour cream or guacamole if you like. We had sour cream on hand for ours, but avocado would be my preference!
https://stlcooks.com/mini-taco-salad-bowls/
Recipe and Photo: $10 buck dinners / CC BY-SA