Jump to recipe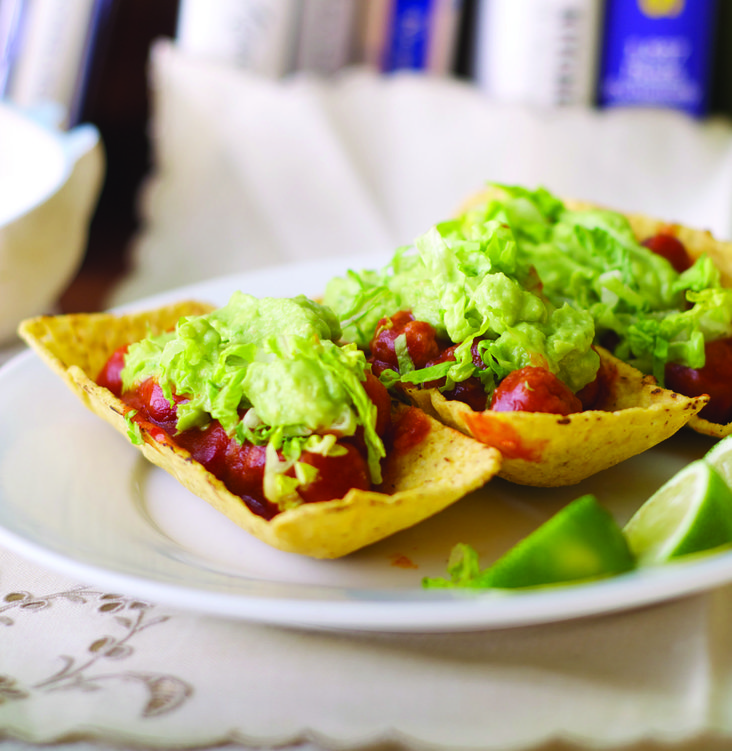 Mini-Meatball Fiesta Flats

Ingredients
4 Ortega Taco Shells, any variety
1/2 pound ground pork
1/2 1.25-ounce package Ortega Taco Seasoning Mix or 40% Less Sodium Taco Seasoning Mix
1 tablespoon vegetable oil
1 10-ounce can Ortega Mild Red Enchilada Sauce
1/4 cup water
2 ripe avocados
1 1-ounce package Ortega Guacamole Seasoning Mix
12 Ortega Fiesta Flats Taco Shells
Shredded lettuce
Instructions
Place taco shells in food processor and pulse until coarse crumbs form. (Or place in resealable plastic bag and crush.) Combine crumbs, pork and taco seasoning in mixing bowl.
Form mixture into small meatballs, about 1/2 inch in diameter. Heat oil in large skillet and brown meatballs lightly, in batches if necessary, about 5 minutes per batch, turning frequently. Return meatballs to skillet and add enchilada sauce and water. Bring to boil over high heat; reduce heat and simmer gently for 15 to 20 minutes or until meatballs are thoroughly cooked.
Meanwhile, mash avocados and stir in guacamole seasoning mix. Let rest in the refrigerator according to package instructions.
To serve, spoon meatballs and sauce into Fiesta Flats. Top each with shredded lettuce and guacamole. If desired, also top with Ortega Taco Sauce and Diced Green Chiles.