Jump to recipe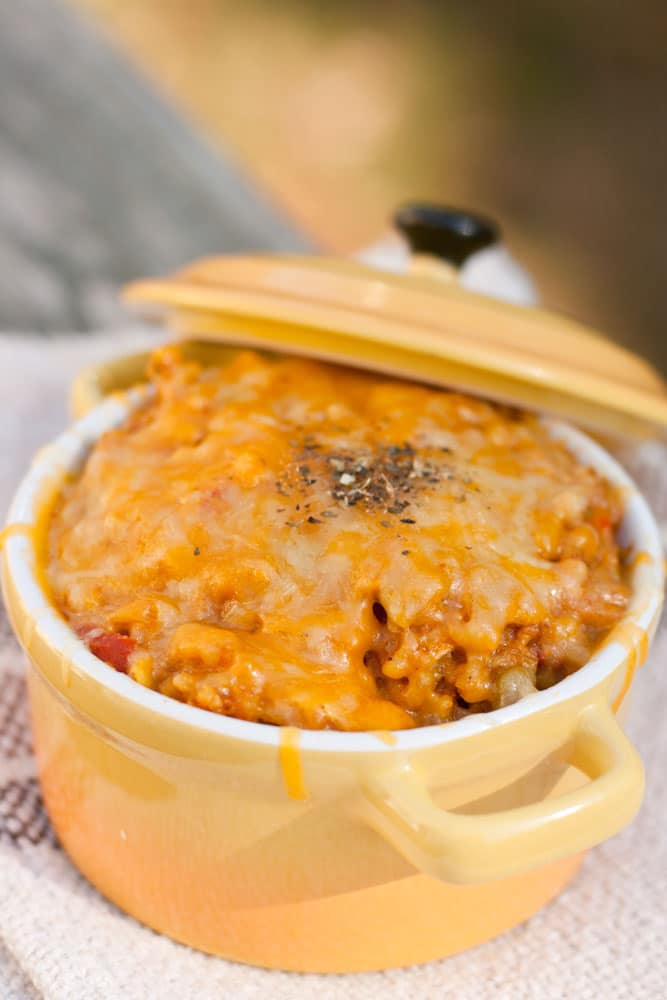 Ingredients
2 tablespoons of Butter
3 cloves of Garlic
3 Chicken Breasts, Cubed
2 teaspoons of Cumin
2 teaspoons of Coriander
5 1/2 teaspoons of Turmeric
1 Onion, Chopped
1 Pepper, Chopped
1 can of Diced Chiles
1 can of Diced Tomatoes
4 cups of Chicken Broth
1 cup of Dried Rice
1 teaspoon of Chili Powder
1/2 teaspoon of Salt
1/2 teaspoon of Onion Powder
1/2 cup of Shredded Cheese
Instructions
Start out by heating up a large pan on medium heat and melting your butter. Add in your garlic and give it a minute or two to cook up.
Sprinkle your chicken with about 1 tsp of the cumin, coriander, and turmeric. Throw it in the pan and cook it up.
Once your chicken is fully cooked, go ahead and add in your diced onion and pepper.
Cook it all up for about 3 to 4 minutes. Add in your chiles and tomatoes.
Swirl it around once or twice and add in your broth. Now add in your rice.
Finally, add in the remaining tsp of chili powder, cumin, and coriander, the salt, the remaining 1/2 tsp of turmeric and the onion powder.
Bring the pot to a boil and then turn down the heat to low and cover. Simmer the mixture for about 20 minutes or until the liquid is absorbed and the rice is cooked through.
Grab your shredded cheese and spread it across the top of the chicken mixture. Cover for another minute or two and allow your cheese to melt completely.
Recipe and Photo: Foodista / CC BY