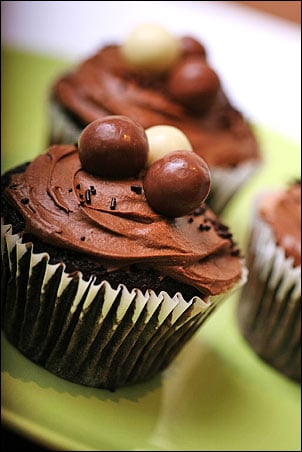 Recipe: Malteaser Cupcakes
Ingredients
Ingredients for the cupcakes:
2 sticks (226g) butter/marg
1 1/4 cups caster sugar
3 eggs
1 tsp vanilla
2/3 cup milk
2 1/3 cups plain flour
2 1/2 tsp baking powder
1/4 cup Horlicks (original, not the one you mix with water) or other malted milk powder
1 cup crushed Maltesers or Whoppers, et al (measure AFTER crushing)
Ingredients for the frosting:
250g butter (not marg)
400g icing sugar
3/4 cup Horlicks (again, the one you mix with milk)
2-3 tbsp cocoa
1/4 cup milk
24 Maltesers for garnish (optional)
Instructions
Preheat the oven to 180 degrees C/350F and line 2 cupcake trays with cases.
Place the butter and sugar in a large bowl or the bowl of your stand mixer.
Beat until light and fluffy, about 2 minutes.
Add in the eggs and vanilla extract.
Mix until well incorporated.
Add in the milk.
Mix until smooth. In a separate bowl sift the flour and baking powder together. Add in the Horlicks powder.
Add your dry ingredients into your wet.
Mix until well incorporated.
Place the Maltesers in a bowl, the one you used to mix up the flour is fine.
Crush the Maltesers until they resemble rubble. I used the end of a rolling pin.
Add into the cake batter.
Mix until well incorporated, I mixed them in the the stand mixer, but double checked they were evenly distributed with a spatula.
Split the batter between the cupcake cases. About 3/4 full.
Place in the oven for 20-25 minutes until an inserted skewer comes out clean.
As always, no pain, no gain, my top tip is take them out of the tray immediately as it stops the cupcake cases peeling away from the cupcakes. They're hot, but you get used to it!
Leave to cool completely on a wire rack.
To make the frosting: Place the butter, sugar, cocoa, Horlicks and milk in a large bowl or the bowl of your stand mixer.
Mix together, at first on a low speed so you don't get a dust cloud. As the dry combines with the butter, turn the speed up to medium-high and beat until light and fluffy.
Spoon or pipe the frosting onto the cooled cupcakes.
Garnish with a Malteser and you're done 🙂
Will keep in an airtight container in the fridge for 3-4 days.