Jump to recipe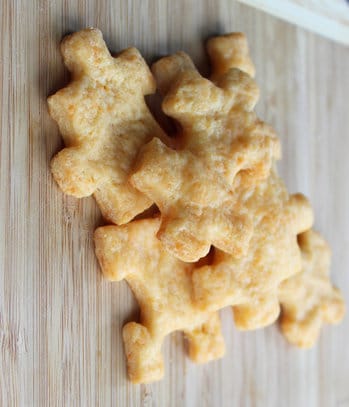 Homemade Cheese Crackers

Ingredients
2 cups all-purpose flour
1 pinch salt
1 1/2 teaspoons red pepper flakes
1 pound Cheddar cheese, grated and room temperature
1 cup unsalted butter, melted
2 cups crispy rice cereal
Instructions
Preheat oven to 300 degrees F (150 degrees C).
Combine flour, salt, and red pepper flakes in large bowl; add Cheddar cheese. Toss until cheese is coated. Pour in melted butter; stir until mixture is moist and crumbly. Add rice cereal and knead by hand until dough is well blended.
Roll dough into small 1/2-inch balls; arrange on a baking sheet. Flatten each ball with a fork.
Bake in the preheated oven until light and crispy, about 30 minutes.
Photo Courtesy of anotherlunch.com on flickr.com / CC BY