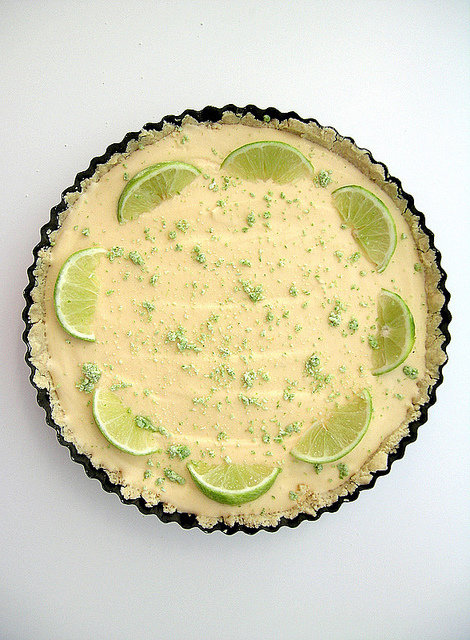 Recipe: Lime Tart
Ingredients
3/4 cup heavy cream
Lime Curd
1/2 cup unsalted butter
5 large egg yolks
1/2 cup granulated sugar
1/2 cup fresh lime juice (roughly 2-3 medium limes)
zest of one lime, finely grated
pinch salt
Brown Butter Crust
6 tablespoons unsalted butter
2 tablespoons sugar
1 1/2 cups all purpose flour
1/4 teaspoon salt
Lime Topping
2 teaspoons granulated sugar
1 teaspoon lime zest
Instructions
Start with the curd, as it will need time to chill after cooking.
Melt the butter over medium low heat in a medium sauce pan. Remove from heat and whisk in the sugar, lime juice, zest, salt and eggs. Return to the heat and cook, stirring frequently for 10-15 minutes, until the curd has thickened and coats the back of a spoon. Do not allow the curd to boil, if it begins to steam pull it off the heat and stir to cool it down.
Place a fine sieve over a bowl and strain the curd. Cover the curd and place in the refrigerator to cool completely (at least 2 hours).
For the brown butter crust, pre-heat your oven to 350°F and ready a 9″ tart pan.
Place the butter into a skillet and melt over medium/medium-low heat. Allow it to cook without stirring until the butter is golden brown and has a warm, nutty fragrance.
Meanwhile, combine the salt, sugar and flour in a small mixing bowl. When the butter is ready, pour it into the bowl in a steady stream while stirring with a fork. Mix well and then pour the crumbs into your tart pan.
Press the crumbs into the pan to form the crust. Stab the crust liberally with a fork and bake for 20 minutes until light golden brown.
Pull out of the oven and allow to cool on a wire rack completely.
When both the crust and the curd are cool you can fill the tart.
Beat the 3/4 cup of heavy cream to stiff peaks and then add the lime curd. Beat in the curd until just incorporated and then pour into your crust. Smooth with an offset spatula.
Lightly cover the tart and chill for 4 hours.
Make the topping by blending the sugar and lime zest into a fine powder in your food processor or blender.
Just before serving, sprinkle the tart with the lime sugar.
Photo Courtesy of jamieanne on flickr / CC BY-ND