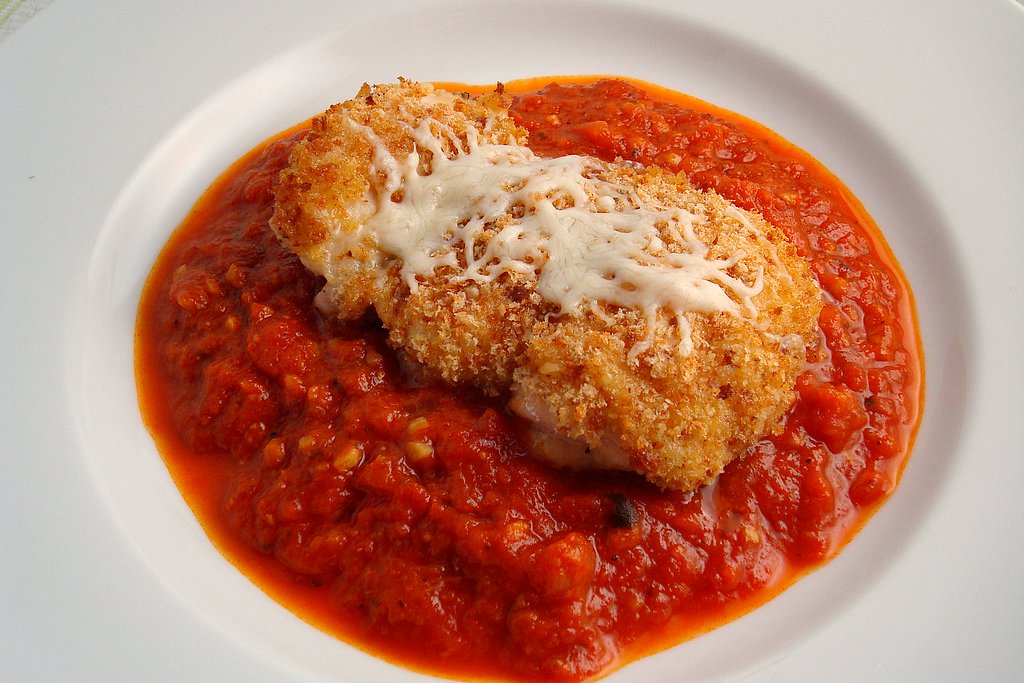 Ingredients
1 slice whole-wheat sandwich bread, torn into pieces
1 1/2 teaspoons grated Parmesan cheese
Coarse salt and ground pepper
1 tablespoon all-purpose flour
1 egg
2 boneless, skinless chicken breast halves
1-2 tablespoons mozzarella, shredded part-skim
8 ounces of your favorite tomato sauce
Instructions
Preheat oven to 425 degrees, with rack in upper third. Line a rimmed baking sheet with aluminum foil; set aside. In a food processor, place bread, Parmesan and a pinch each salt and pepper. Pulse until coarse crumbs form; transfer to a shallow bowl. Place flour in a second shallow bowl; season with salt and pepper. Place egg in a third shallow bowl, and beat with a fork until frothy.
Dip top side of a chicken breast in flour, shaking off excess. Dip same side in egg white, letting excess drip off, then in breadcrumbs, pressing to adhere. (Do not bread other side.) Repeat with remaining chicken and transfer, breaded side up, to prepared baking sheet. Bake until breadcrumbs are crisp and browned, 8 to 10 minutes. Remove from oven; sprinkle with mozzarella. Continue baking until chicken is opaque throughout and cheese is lightly browned, 2 to 4 minutes.
Meanwhile, in a large skillet add the tomato sauce and lightly season with salt and pepper. Simmer until the sauce is warmed through, about 3-4 minutes. Serve chicken with a generous amount of tomato sauce.
https://stlcooks.com/light-chicken-parmesan/
Recipe and Photo: Dishing Up Delights / CC BY-NC-ND