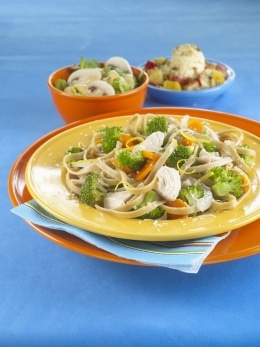 Recipe: Lemon Broccoli Fettuccini
Ingredients
½ lb. whole-wheat fettuccine
1 (12 oz.) package of broccoli
2 carrots, peeled and thinly sliced
½ sweet onion, thinly sliced
2 Tbsp. extra-virgin olive oil
1 ½ Tbsp. minced fresh garlic
2 cups cooked chicken breast, shredded
1 tsp. grated fresh lemon zest
1/8 tsp. salt
1/8 tsp. black pepper
1/3 cup Parmesan cheese
For the dessert:
2 peeled, diced apples
1 diced mango
1 teaspoon cinnamon
1 tablespoon orange juice
2 tablespoons low fat granola
vanilla ice cream
Instructions
Cook fettuccine according to package directions. Add broccoli, carrots and sweet onion to pasta during last 3 minutes of cooking. When fettuccine and broccoli are cooked, drain, reserving ½ cup pasta water; set aside.
Heat olive oil over medium heat. Add garlic and cook 1 ½ –2 minutes. Add chicken and pasta water, cook until heated through. Add lemon zest, salt and pepper; remove from heat.
Toss chicken mixture with pasta, vegetables and Parmesan; serve immediately.
Bonus dessert:
Divide 2 peeled, diced apples; 1 diced mango and 1 teaspoon cinnamon among 4 glass custard cups; place 1 tablespoon of orange juice in each and microwave on high until fruit is bubbly and apples are tender; top each cup with 2 tablespoons low-fat granola and a scoop of vanilla ice cream.
Recipe and Photo Courtesy of Produce for Kids