Jump to recipe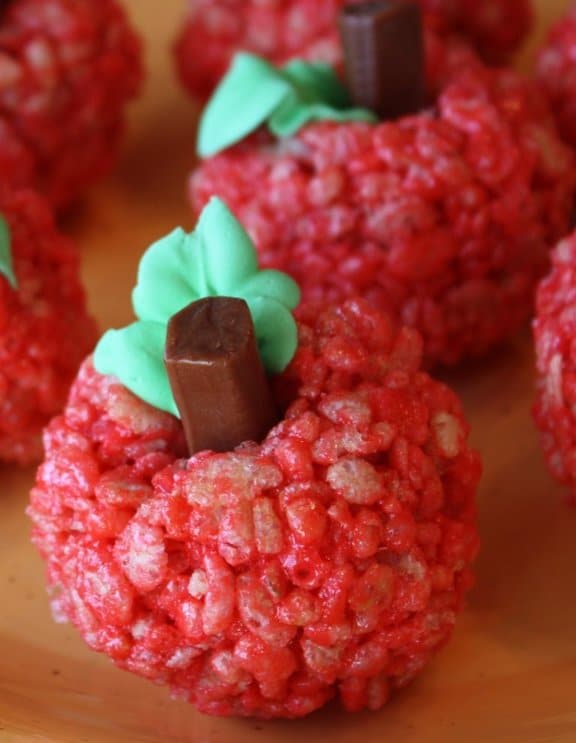 Krispy Apple Treats

Ingredients
6 C. Krispy Rice Cereal
1 pkg. large marshmallows
3 T. butter
1 small pkg. Jell-o powder, cherry or strawberry flavor
25 small Tootsie Roll Candies
Royal Icing, tinted green
Baking spray
Wax Paper
Red Food Coloring, optional
Instructions
Place marshmallows and butter in large microwave-safe bowl. Microwave on high for 2 minutes. Stir and microwave for an additional minute. Remove from microwave and stir in jell-o powder. If desired, you can add a few drops of red food coloring (depending on how "red" your jell-o is). Add Krispy Rice cereal and stir well. Spray hands with baking spray and roll mixture into balls (a little larger than a golf ball) and drop on wax paper.
After balls have set for a few minutes, use your thumb to press into the top to make an "apple" shape.
Add a small tootsie roll "stem" and using royal icing (or any green candy), pipe on a "leaf". I actually would have rather used some kind of green candy but didn't have any on hand. I just used royal icing and a leaf-shaped icing tip.
Serve to your favorite kiddos! These would also be a really fun "Teacher Appreciation Day" snack!
Royal icing recipe can be found by clicking here.
Recipe and Photo: Gourmet Mom on-the-Go / CC BY