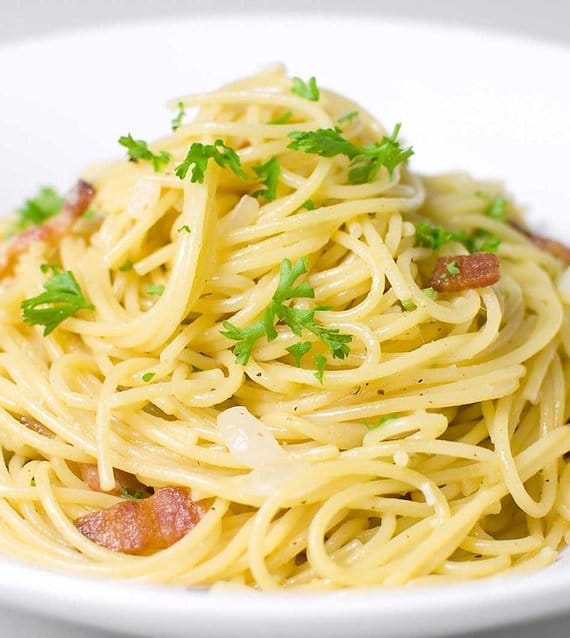 Ingredients
2 egg yolks
½ cup of heavy cream
¾ cups grated Parmesan cheese
as much Bacon or pancetta as you wish to have
chopped parsley (optional)
additional grated parmesan
salt and pepper
Instructions
Dice your Bacon and cook according to desired crispness.
Drain on paper towel. Reserve the bacon grease.
Mix 2 egg yolks with 1/2 cup of heavy cream and 3/4 cup of grated Parmesan cheese.
Add salt and pepper to taste.
Cook your noodles and strain, reserving some of the starchy water.
Put the noodles back in your saucepan and add a teaspoon or two of the bacon grease to coat the noodles (this prevents the cream sauce from soaking right into the noodles).
Add your egg mixture to the noodles and combine well. I
If the sauce is too thick add a bit of your reserved starchy water. This is all dependent on how you like it.
Mix in your Bacon bits right into the sauce and noodles or pile them on top as I did.
Serve it up in a bowl or two and sprinkle with additional parmesan, chopped parsley and freshly ground pepper to taste.
https://stlcooks.com/pasta-carbonara/
Recipe and Photo: recipes.wikia.com / CC BY-SA