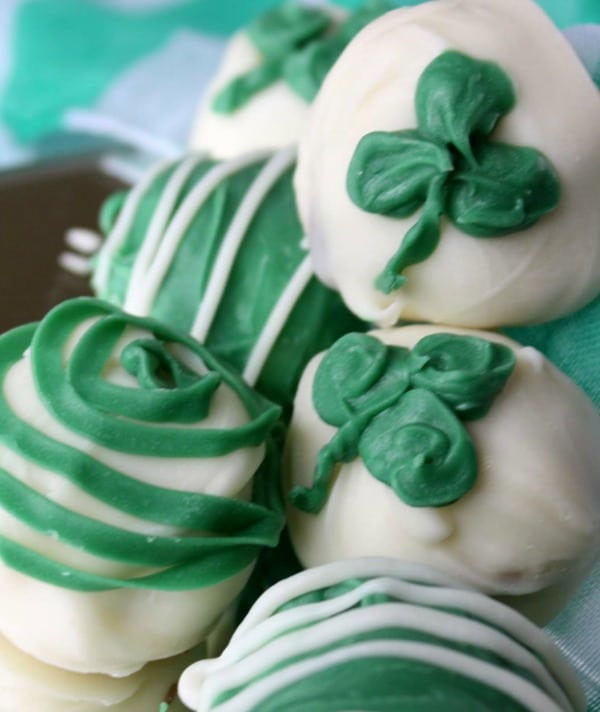 Ingredients
1 large light-colored w sweet potato (about 13 oz.)
4 T. butter, softened (half of a stick)
1 (14 oz.) can sweetend condensed milk
5 oz. cream cheese, softened
1 cup sliced almonds
1 tsp. almond extract
10 C. powdered sugar
12 oz. white chocolate
12 oz. milk or dark chocolate
12 oz. green candy melts (if you want to make them for St. Patrick's Day)
Instructions
Cook sweet potato (oven, microwave, whatever works for you) and let cool. Peel and place into a large mixing bowl with condensed milk, cream cheese, butter and almond extract. Mix well. Add powdered sugar one cup at a time, until mixture is thick enough to roll into balls that will hold their shape. Add sliced almonds and mix until combined. (Note: depending on your climate, you may not need this much powdered sugar or may need a little more).
Roll into 3/4 inch balls and set on wax paper or baking sheets.
Melt chocolate on a double boiler or in the mircowave at 30 second intervals, stirring after each interval. Dip potato candy in one color chocolate and garnish with the other color (I like to put some in a quart ziploc freezer bag, snip an end off and "draw" with it). Let set completely, about 5 minutes. You can store these in the refrigerator for up to a week. Enjoy!
https://stlcooks.com/irish-sweet-potato-candy/
Recipe and Photo: Gourmet Mom on the Go / CC BY