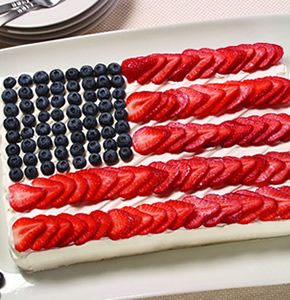 Recipe: Independence Cake
Ingredients
1 cup water
1 cup instant mashed potato flakes
2 2/3 cups all-purpose flour
1 tablespoon baking powder
3/4 teaspoon salt
2 teaspoons ground cinnamon
1/2 teaspoon ground nutmeg
2 2/3 cups granulated sugar
1 cup (2 sticks) butter or margarine, softened
4 large eggs
3/4 cup milk
2 cups (12-ounce package) Nestlé Toll House Semi-Sweet Chocolate Mini Morsels
1 container (8 ounces) frozen lite whipped topping, thawed
2 cups sliced strawberries
1/2 cup blueberries
Instructions
PREHEAT oven to 350° F. Grease 13 x 9-inch baking pan; line with wax paper.
HEAT water to boiling in small saucepan; remove from heat. Stir in potato flakes until moistened. Cool to room temperature. Combine flour, baking powder, salt, cinnamon and nutmeg in a medium bowl.
BEAT sugar and butter until crumbly. Add eggs one at a time, beating well after each addition; beat in potatoes. Gradually beat in flour mixture alternately with milk. Stir in morsels. Spoon into prepared baking pan.
BAKE for 45 to 55 minutes or until wooden pick inserted in center comes out clean. Cool in pan for 15 minutes. Invert onto wire rack; remove wax paper. Cool completely. Transfer to serving platter.
FROST sides and top of cake with whipped topping. Just prior to serving, arrange strawberry slices and blueberries on top of cake to represent the American flag.
Number of servings (yield): 20
Recipe and Photo Courtesy of Nestlé USA, Inc.