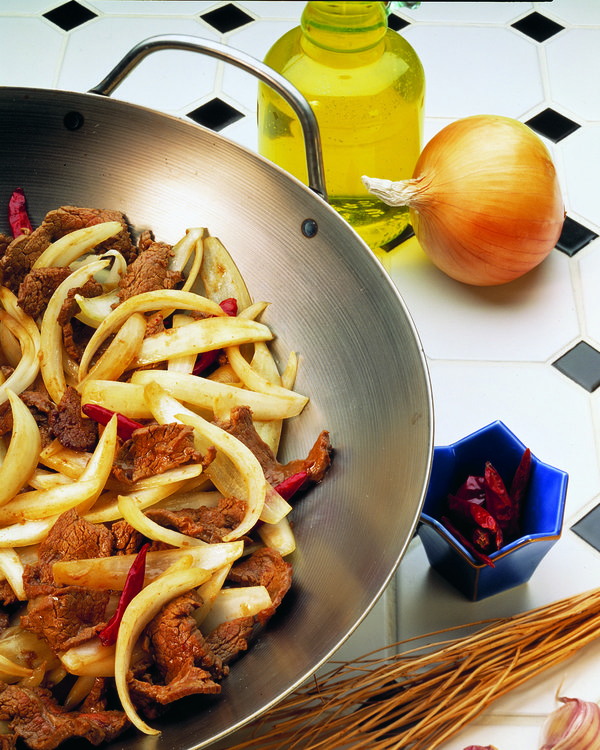 Recipe: Hot and Spicy Onion Beef
Ingredients
2 tablespoons soy sauce, divided
1 tablespoon cornstarch, divided
3/4 pound flank steak, thinly sliced across the grain
2 tablespoons dry sherry (optional)
1 teaspoon oriental sesame oil
1 teaspoon chili paste (optional)
2 tablespoons vegetable oil
1 large onion (about 9 to 11 ounces) sliced vertically
1 teaspoon minced garlic
Dried whole red chili peppers, to taste
1 tablespoon water
Instructions
Combine 1 tablespoon soy sauce and 1 teaspoon cornstarch in medium bowl. Add beef; stir to coat. Let stand 30 minutes.
Combine remaining tablespoon soy sauce, sherry, sesame oil and chili paste in small bowl; set aside.
Heat wok or large skillet over medium heat. Add vegetable oil, swirling to coat sides.
Add onion, garlic and chili peppers; cook and stir until onion is tender. Add beef; stir-fry 2 minutes or until lightly browned. Add soy sauce mixture and mix well. Combine remaining 2 teaspoons cornstarch and the water; mix into onion mixture.
Cook and stir until sauce boils and thickens.
Number of servings (yield): 4
Recipe and image provided by the National Onion Association.