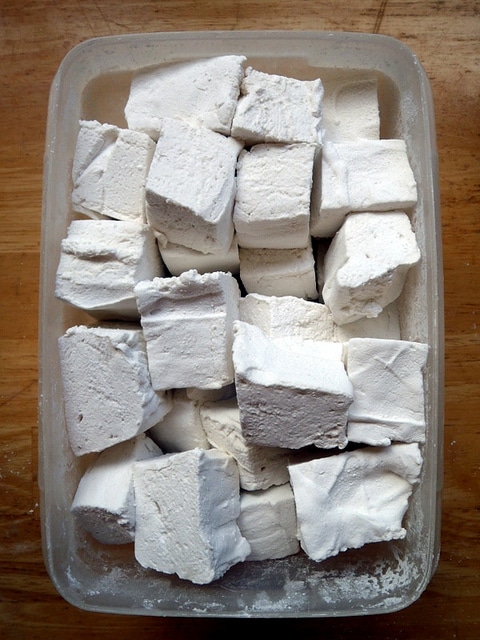 Recipe: Homemade Vanilla and Cinnamon Marshmallows
Ingredients
About 1 cup confectioners sugar
3 1/2 envelopes (2 tablespoons plus 2 1/2 teaspoons) unflavored gelatin
1 cup cold water, divided
2 cups sugar
1/2 cup light corn syrup
1/4 teaspoon salt
2 large egg whites, at room temperature
1 tablespoon vanilla
Instructions
Oil bottom and sides of a 13- by 9- by 2-inch rectangular metal baking pan and dust bottom and sides with some confectioners' sugar.
In bowl of a standing electric mixer or in a large bowl sprinkle gelatin over 1/2 cup cold cold water, and let stand to soften.
In a 3-quart heavy saucepan cook granulated sugar, corn syrup, second 1/2 cup of cold water, and salt over low heat, stirring with a wooden spoon, until sugar is dissolved. Increase heat to moderate and boil mixture, without stirring, until a candy or digital thermometer registers 240°F, about 12 minutes. Remove pan from heat and pour sugar mixture over gelatin mixture, stirring until gelatin is dissolved. (At this point it's going to smell really bad, and you're going to wonder if the marshmallows will even be edible. They will be, trust me.)
With standing mixer beat mixture on high speed until white, thick, and nearly tripled in volume, about six minutes.
In separate medium bowl with cleaned beaters beat egg whites until they just hold stiff peaks. Beat whites and vanilla into sugar mixture until just combined.
Pour mixture into baking pan. Sift 1/4 cup confectioners sugar evenly over top.
Chill marshmallow, uncovered, until firm, at least three hours, and up to one day.
Run a thin knife around edges of pan and invert pan onto a large cutting board. Lifting up one corner of inverted pan, with fingers loosen marshmallow and ease onto cutting board. With a large knife cut marshmallow into roughly one-inch cubes.
Sift remaining confectioners' sugar back into your now-empty baking pan, and roll the marshmallows through it, on all six sides, before shaking off the excess and packing them away.
Marshmallows keep in an airtight container at cool room temperature 1 week.
Recipe and Photo Courtesy of joyosity on flickr / CC BY