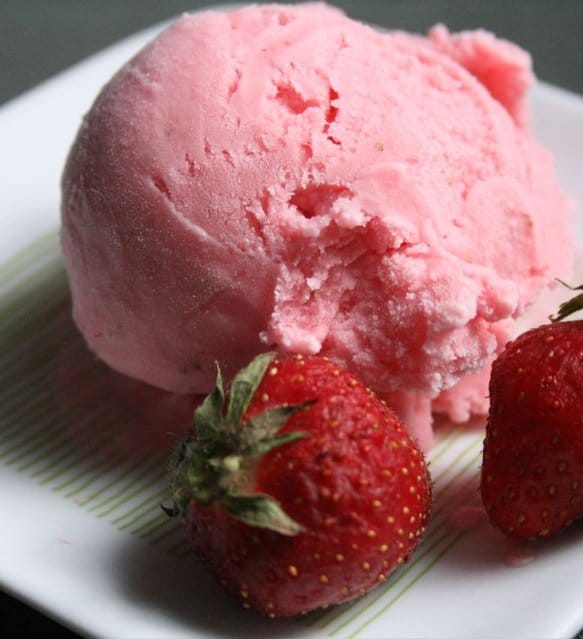 Recipe: Homemade Strawberry FroYo
Ingredients
2 tablespoons fresh lemon juice plus 1 teaspoon finely grated lemon zest
One 1/4-ounce package unflavored powdered gelatin
12 ounces strawberries, hulled
3/4 cup sugar
1/4 cup light corn syrup
2 cups plain whole-milk yogurt
1/2 cup heavy cream
Instructions
Fill a large bowl with ice water. Pour the lemon juice into a small bowl. Sprinkle the gelatin on top; let stand for 5 minutes.
Meanwhile, in a blender, puree the strawberries until smooth; you should have about 1 cup of strawberry puree.
In a small saucepan, combine the strawberry puree with the sugar and corn syrup and bring to a boil. Cook over moderately high heat until the sugar dissolves completely, about 1 minute. Remove the strawberry mixture from the heat and stir in the lemon gelatin until it melts.
In a medium bowl, mix the yogurt with the lemon zest and the hot strawberry puree. Stir in the heavy cream. Set the bowl in the ice water bath and let stand, stirring occasionally, until the strawberry yogurt is cold, about 20 minutes.
Pour the strawberry yogurt into an ice cream maker and freeze according to the manufacturer's instructions.
Pack the frozen yogurt into a plastic container. Press a sheet of plastic wrap directly onto the surface of the frozen yogurt and close with an airtight lid. Freeze until firm, about 4 hours.
Recipe Adapted From Food & Wine Magazine
Photo Courtesy of TheBittenWord.com on flickr.com / CC BY