Jump to recipe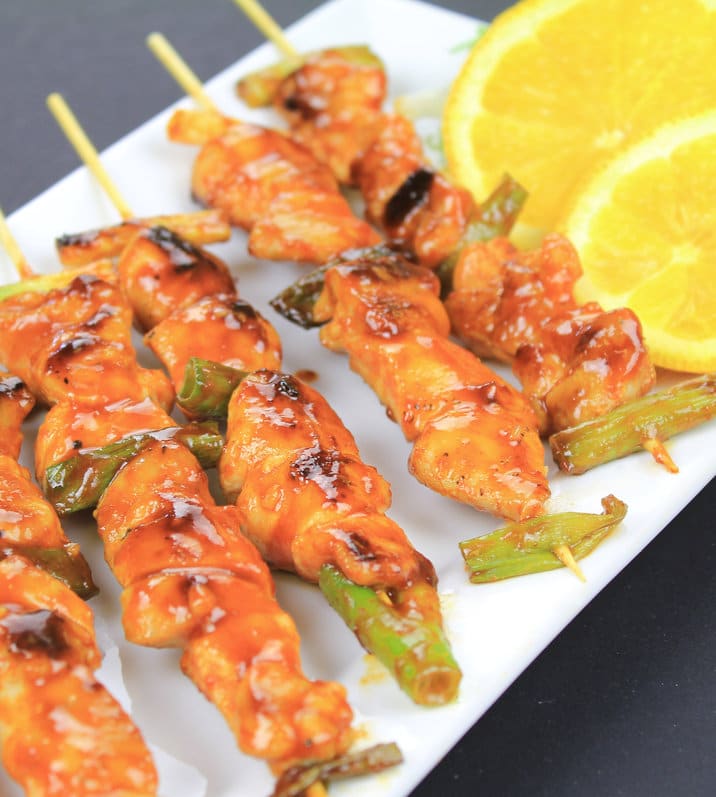 Ingredients
Chicken thigh fillets (350g= about 12.5 oz)
3 Spring onion (40g= 1.5 oz)
Ground peanuts for a garnish
2 Tsp Cooking wine
Pepper
For the sauce
2 Tbs Chilli paste
3 Tbs tomato ketchup
2 Tbs Starch syrup (or honey)
2 Tsp Soy sauce
1 Tsp Crushed garlic
Instructions
Cut the chicken into 2cm(0.8 inches) pieces.
Marinate the chicken with 2Tsp of cooking wine and a little bit of pepper for 20minutes.
Meanwhile, make the sauce. Mix all the sauce ingredients in a bowl.
Cut the spring onion into 2cm(0.8 inches) lengths.
Thread the chicken and spring onion onto skewers like a picture below.
Add a little bit of olive oil to the pan, heat on low-medium.
Grill the chicken skewers for 1minutes on each side on medium heat(don't cook them too done). Put them on kitchen towel to remove excess oil.
Coat on all sides of chicken and spring onion with sauce.
Grill the skewers 2minutes on each side on low-medium heat.
After 4minutes, re-coat the chicken with remaing sauce. Grill 1-2 more minutes on each side.
Sprinkle the ground peanuts on the chicken skewers. Serve immediately.
Quick notes
•If you don't have cooking wine, you can use milk instead.(step2)
•Make sure you don't cook the chicken too done because we grill the chicken later again.(step7)
•The more you can baste the chicken, the better the taste will be.(step10)
For step-by-step photos for this recipe visit kfoodaddict by Clicking Here!
Photo Courtesy of KFoodaddict on flickr.com / CC BY