Jump to recipe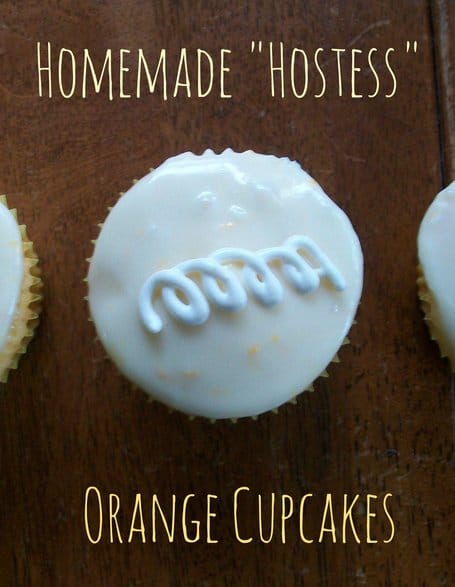 Ingredients
Cupcakes
1 1/2 cups cake flour
1 1/4 teaspoons baking powder
1/4 teaspoon salt
1 stick of unsalted butter at room temperature
1/2 cup sugar
1 egg
2 1/2 teaspoons orange zest (from 2 medium oranges)
the juice from 1 medium orange
2 Tablespoons milk
Filing
1/2 cup marshmallow fluff
1 cup confectioners' sugar
1/4 cup vegetable shortening, i.e. Crisco
1 Tablespoon milk
1 teaspoon vanilla
Orange glaze
1 cup confectioners' sugar
1 Tablespoon meringue powder
the juice of half an orange
pinch of orange zest
Instructions
For the cupcakes
Preheat oven to 350F. Line muffin tin with paper cups or grease.
Using a handheld mixer whip up butter. Add sugar and zest and continue to beat. Add egg, orange juice and milk, beat 2 minutes. In another bowl, combine cake flour, baking powder and salt. Mix well. Add to butter mixture and mix until fully incorporated. Fill muffin cups 3/4 full. Bake for approximately 20 minutes. Remove from oven and cool on a wire rack.
For the filling
Using a handheld mixer, whip all ingredients until fluffy. Fill a piping bag with frosting and with a cupcake filling tip, fill cupcakes when they have cooled.
For the orange glaze
Combine all ingredients adding more sugar until it reaches desired consistency. The meringue powder hardens the glaze slightly. Dip filled cupcake tops into the glaze.
Switch piping bag tip to make a squiggly line with remaining frosting (optional)
Recipe and Photo: Homemade and Wholesome / CC BY