Jump to recipe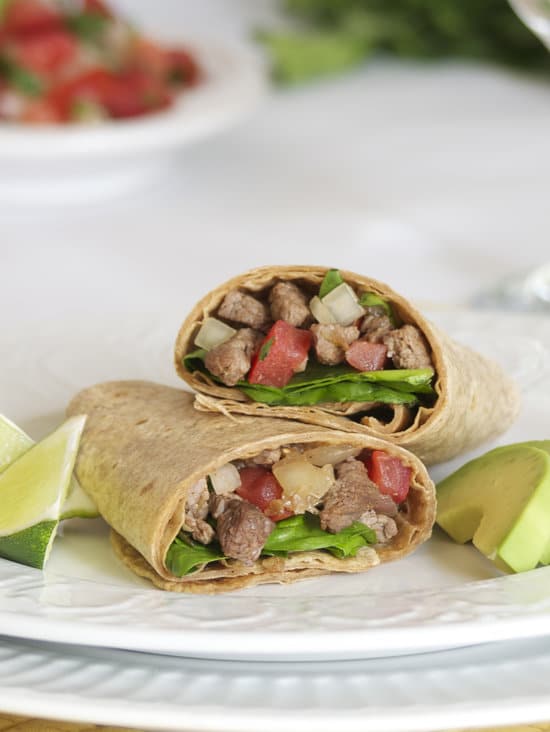 Ingredients
1 Tbsp Olive oil
2 garlic cloves, pressed
½ cup onion, diced
6 tortillas, burrito size
2 cups fresh baby spinach
1 avocado, peeled, pitted and sliced
1 fresh lime, cut into wedges
For Meat
1 lb sirloin, trimmed and diced (1/2 inch)
1 tsp ground cumin
½ tsp paprika
1 tsp black pepper
½ tsp kosher salt
½ cup fresh lime juice
For Pico de Gallo
2 Roma tomatoes, diced
1 small onion, diced
1 jalapeño, seeded and diced
½ cup fresh cilantro, chopped
1 fresh lime, juiced
Instructions
In a medium sized bowl combine beef, cumin, paprika, pepper, salt and lime juice. Toss to combine and coat meat. Cover and place in refrigerator for at least 30 minutes.
Prepare pico de gallo in a small bowl. Cover and let sit until ready to assemble burritos.
Prepare avocado slices and drizzle with fresh lime juice to keep them from browning.
In a large skillet heat olive oil over medium-high heat. Add onion and garlic to pan and cook just until garlic is fragrant. Add beef to pan and cook for 3-5 minutes.
Warm tortillas in a large pan over medium heat.
Place ¼ cup meat, 2 tablespoons of pico de gallo, and a double layer of spinach leaves in the center of each tortilla. Fold sides over filling, then roll one edge over filling and roll until filling is completely covered. Place seam side down on plate.
Serve with lime wedge and sliced avocado.
Recipe and Photo: Pick Fresh Foods / CC BY