Jump to recipe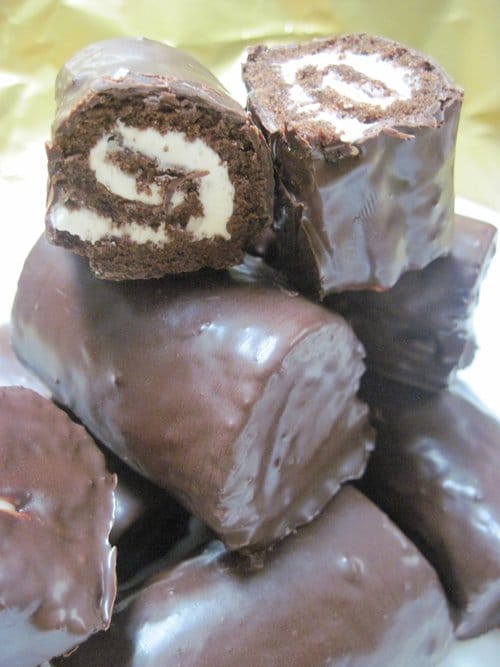 Your kids will love these homemade Ho Ho's. So have fun, let them help, and don't expect them to look perfect. That's what the store bought ones are for.
Homemade Ho Hos

Your kids will love these homemade Ho Ho's. So have fun, let them help, and don't expect them to look perfect. That's what the store bought ones are for.

Ingredients
for the cake:
4 eggs
1 cup sugar
5 tablespoons cocoa powder (preferably Dutch processed), plus more for dusting pan
2 teaspoons pure vanilla extract
1 cup unbleached, all-purpose flour
1/4 teaspoon kosher salt
5 tablespoons butter, melted
for the filling:
1/2 cup sugar
4 ounces cream cheese
1 1/2 cups heavy cream
1 teaspoon pure vanilla extract
for the frosting:
2 cups good quality chocolate chips (I like Guittard)
2 tablespoons butter
Instructions
Preheat oven to 350 degrees. Butter a half sheet pan (17×12 inches), then line with parchment paper. Butter the paper and sides of pan and dust with cocoa powder. In a medium-sized, heat-proof bowl, set over a saucepan of simmering water, whisk together the eggs, sugar, and 2 tablespoons of cocoa powder. Whisk almost constantly until mixture is warm to the touch. Remove from heat, and with an electric mixer, beat on high for several minutes until the mixture is smooth, falls in ribbons, and is cool to the touch. Stir in vanilla.
Combine the rest of the cocoa powder, flour, and salt in small bowl, and fold a third of it into the egg and sugar mixture. Fold the next third in until well incorporated, followed by the melted butter, and the last third of the flour mixture. The batter should now fall in thick ribbons. Spread evenly into prepared pan and bake for 10 minutes, or until cake springs back when touched. Allow to cool.
While the cake cools, make the filling. In a medium-sized bowl, with an electric mixer, cream sugar and cream cheese until the sugar dissolves. Switch to the whisk attachment (if you have one), and add in cream, a little at a time, until it is well incorporated. Raise the speed to high, and beat until stiff peaks form. Fold into vanilla. You may taste a little, but try not to go crazy. You'll need it for the filling.
When the cake is almost fully cooled, cut into 10 equal pieces. Spread filling even over the cake, and take each section and carefully roll up, being careful not to break the cake or squish out the filling (but this will probably happen, so don't panic. My son said that the frosting is for filling in the cracks). When all pieces are rolled up, place in the freezer to set for about 20 minutes.
In a small, microwave safe bowl, combine the chocolate chips, and the butter. Microwave on high for 45 seconds. Stir, and microwave for 10 seconds more until all the chips are melted.
Remove the naked ho-ho's (no innuendo intended here) from the freezer, cut off any filling oozing out the sides, and coat in the the melted chocolate mixture. Place on parchment paper, and return to the freezer until the frosting is set.
Photo: Good Food Gourmet / CC BY