Jump to recipe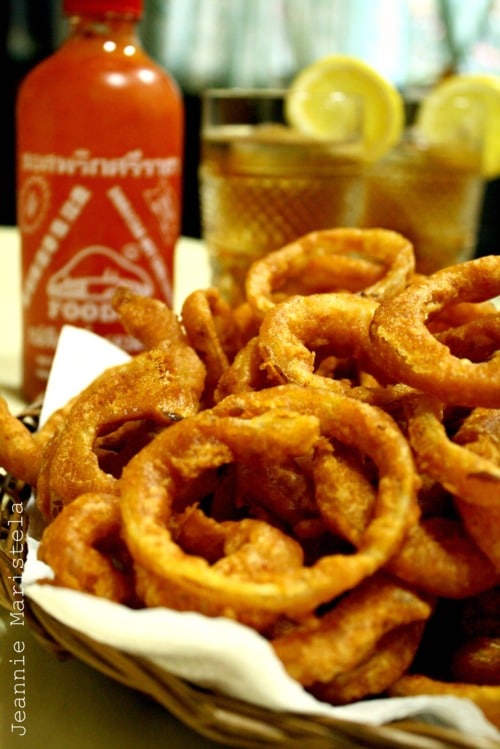 Spicy Onion Rings

Ingredients
2 large yellow onions or if Vidalia Onions are available, those are much preferred, cut crosswise into 1/8-inch slices
1/2 cup tempura (batter) flour, for dredging the onion rings
2 cups tempura (batter) flour, this can be purchased at Japanese or Asian food store
1 teaspoon cayenne powder
2 teaspoons sweet paprika
1 1/2 teaspoons salt
1 1/4 cups ice cold water
1 qt. canola oil, for deep frying
Instructions
Separate the onion slices into rings. Place the 1/2 cup of tempura flour in a ziploc bag. Put the onion rings inside the ziploc and shake to evenly coat the onion rings.
In a medium mixing bowl, stir together the tempura flour, cayenne, sweet paprika and salt. Add the ice cold water into the spiced flour mixture and whisk until the batter is free of lumps.
Put the oil in a large heavy pan with high sides and heat to 375'F. Place paper towels all over a baking sheet.
Remove the onion rings from the ziploc bag and shake off excess flour.
Dip onion rings in the spiced tempura batter a handful batch at a time.
Use a kitchen tong to pick up each ring from the batter to place in hot oil (do not overcrowd the pan to avoid the oil from dropping its temperature).
Use a slotted (or perforated) spoon to fish-out the fried onion rings.
Place on the baking tray lined with paper towels to drain excess oil.
Place in a basket lined with parchment paper/paper towels.
Recipe and Photo: Goddess of Scrumptiousness / CC BY-ND